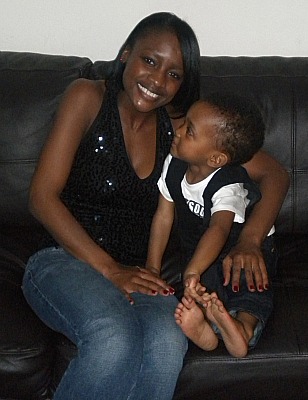 By Alicia Harper
I never thought of myself as a fearful person. I'm more the person who believes in the beauty of believing that anything is possible. I've always felt wholeheartedly that if I just focused on my goals and the necessary steps to get there, I would be unstoppable. And this has worked for me. As I grew up in foster care, moving from home to home and school to school, I landed the opportunity of a lifetime a full academic scholarship to Columbia University, courtesy of the New York Times College Scholarship Program.
When I received my BA from Columbia, I felt unshakable. After all, I defied the odds of poverty, defeated homelessness, and said peace out to suffering and resentment. It felt good. I felt unstoppable. Fearless, even.
I'd never understood the power of what fear could do to a person until I experienced it firsthand. I learned that fear can paralyze you like no other thing, and interestingly enough, I learned this in my young adult life after I'd completed college. And if you've ever been afraid of anything in your life, then you can probably relate to my story one of love gone wrong and sweet gone sour.
After trying tirelessly to make the relationship with my son's father work, feeling defeated on so many levels, giving my all but getting very little in return, I reached what I thought was my breaking point. But I still stayed. The fear of being labeled a Black single mother and the stigmas attached to that label the fear of not feeling confident enough to raise my son on my own into a successful Black man the fear of what others would say if I didn't continue to portray the image of the perfect family these fears kept me hostage and forced me to stay in a relationship that was toxic for me for almost a year after I realized it was not working. Yes, a whole year. Believe it. I stayed miserable. I stayed paralyzed. I stayed fearful.
I had something to prove to e'rybody and their momma. First, I was not about to be the Columbia grad who defied so many other odds, but couldn't keep her own family together. Second, it was my church family situation; for so long I was deemed little miss perfect from my church family, and since I'd fallen from grace when I found myself pregnant and unmarried, I felt as though I had too much to prove to them.
This. Relationship. Had. To. Work.
But after a while, this church girl gone child realized that it was costing too much to stay. My dignity, my self-worth, my wellbeing, my safety, my son it was all at stake. Once I came to the realization that being in this relationship was harder than being a single mother, there was no turning back. And let me tell you, that has been the most humbling experience of my life thus far.
Suddenly, I was no longer paralyzed by fear, but pushed forward by it. Hard. Fast. Strong.
The fear that I was modeling the wrong thing for our son and setting a not-so-good example for him the fear that he would think that the thing his dad and I had going on is what real love is supposed to look like the fear of what he would think as he grew older and what those thoughts would do to him these fears pushed me to leave.
And so I left. Liberated. And guilt-free.
I write these words not to degrade my son's father or vent about the kind of boyfriend he was. I fully endorse marriage and parents who raise their children in a two-parent household. I know how God designed it to be, and I fully plan on letting my son know this as well. But I have to be honest. Heck, the situation with the other parent could speak for itself. And if it could talk, it'll tell you this much: it was not good. And now, I'm embracing my single momma status fully, with open arms.
I know all of the statistics out there on Black single mothers. I know what society thinks and how the world views us. I know what they say the odds are of my son growing up unsuccessful, not finishing high school, let alone attending college. I know that the statistics expect him to work a dead-end job. And I know that it says he may be a womanizer and have several baby mamas.
But I don't subscribe to those statistics. I don't fear them because they won't stop us. In fact, this year I resolve to fear less and focus more on raising my son into a capable, competent, and socially responsible man Black man.
We're aiming higher. Much higher. We're defying the odds, loud and proud baby. I'm now a fearless single mother. Black single mother. And I can't WAIT to see my baby soar.
Alicia Harper is a mother, blogger, and full-time graduate student at Columbia University. Her NYC life is filled with all things pink, except for the one touch of blue her rambunctious 3-year-old son. Alicia blogs about the trials and triumphs of being a single mother at Mommy Delicious. You can also find her on Facebook and follow her on Twitter @mommydelicious.