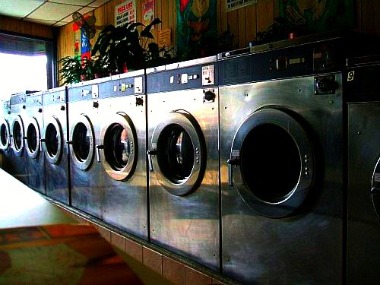 So I was doing laundry yesterday and Mari came in and did what she's been doing since she was but a little pea in my womb: She shoved her face into the Tide bottle, inhaled deeply, and proclaimed her love for the scent of our favorite laundry detergent. Okay, well, she couldn't have possibly done that while in-vitro. But Lord knows that when I was pregnant, I couldn't walk past a laundry room without wanting to crunch on powdered Tide, liquid Downy and all manner of cleaning product, especially Mr. Clean.
No, I never actually ate or sipped any. I might have inhaled deeply, but none actually touched my lips. Um, not really.
Of course, later in my pregnancy, I found out that my craving for powdered Tide was a symptom of an iron deficiency. But even as I swallowed those constipation-inducing horse er, iron pills, I knew deep down on the inside that it was my Mari who wanted to have a Tide pie. She proves me right every time I do laundry and especially when we walk down the laundry aisle at Kroger. Girlfriend's got it bad.
Anyway, yeah. So what was your weirdest pregnancy craving?
Mom. NY Times bestselling author. Pop culture ninja. Unapologetic lover of shoes, bacon and babies. Nice with the verbs. Founder of the top black parenting website, MyBrownBaby.