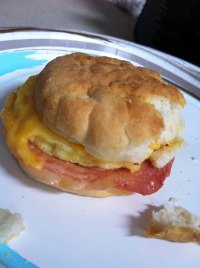 I'm not gonna lie: I SUCK at eating breakfast. Like all-too-many women, eating a big plate of food first thing in the morning makes me feel guilty like I'm setting myself up for a day's worth of over-eating. I recognize this is stupid. Particularly since I wouldn't dream of sending my girls to school on an empty stomach. When it comes to my babies, I know the universal truth: A good breakfast gives kids the energy they need to start their day, helps kids focus on learning instead of grumbling tummies, improves academic performance and behavior in kids and curbs obesity among children. That translates into better, more physically fit students, better grades and more success stories in the classroom everything I want and expect from my Mari and Lila.
But I recognize that not every child has the fortune of something so simple so necessary: A hearty breakfast. It's estimated that nearly one in four kids in this country live in households where there's no guarantee breakfast will be on the table from day to day. And while this has been primarily an issue for low-income and minority children, advocacy groups fighting undernourishment say the number of kids going without breakfast in the morning is striking across ethnic groups, as Americans up and down the income ladder struggle with the recession.
But we all can make a difference for these children and it's as simple as sending a text or email. Kellogg's has started an amazing program, Share Your Breakfast, which invites us all to text or email a picture of our breakfasts to trigger breakfast donations to kids who might otherwise miss out.
Yup it's that simple: Upload a picture or description of your morning meal to ShareYourBreakfast.com, or text your photo with the word Share to 21534, and Kellogg's will donate a breakfast to a child in need.
The four pictures illustrating this post are the breakfasts Lila, Mari, Nick and I ate on Sunday (well, I drank mine. I promise to do better). We'll be taking four more pictures every day through July 31, 2011 to do our part to help babies who, through no fault of their own, aren't getting breakfast at home.
Kellogg's goal is to share one million breakfasts with kids who need them most by donating to Action for Healthy Kids, a non-profit organization and volunteer network that provides funding directly to school districts to expand or initiate school breakfast programs. Every $1 donated through July 31, 2011 = five school breakfasts shared through the Action for Healthy Kids grants.
And for my New York City-area MyBrownBaby readers: Kellogg's is hosting breakfast at New York City's Grand Central Station on Tuesday, March 8th, to celebrate National Breakfast Day, a day dedicated to raising awareness about the importance of breakfast. Grab something to eat, take a picture of it, and help get a breakfast to a child.
So get to it! Simply take a photo of your breakfast and share it at www.shareyourbreakfast.com or text your photo with the word Share to 21534. And if you're on The Twitter or FB, be sure to tell all your followers about this great program and hook it up with the #ShareURbreakfast hashtag so that everyone can see your heart.
Mom. NY Times bestselling author. Pop culture ninja. Unapologetic lover of shoes, bacon and babies. Nice with the verbs. Founder of the top black parenting website, MyBrownBaby.