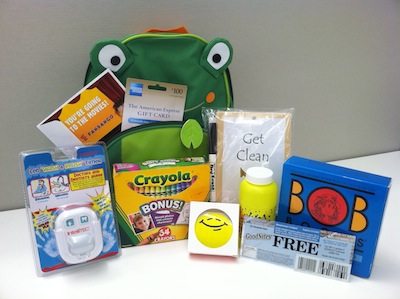 Thank you all for participating in this giveaway. Congratulations to Daphne of Mushy Mama, whose number, 31, was chosen via Random.org!
It sneaks up on you. One day, your babies depend on you for everything they need you to change their diapers, fix their bottles (or hold them while they breastfeed), bathe and clothe them, brush their teeth, carry them from one place to another. And then, before your eyes, they're all grown up or at least acting like it. They're showering on their own, leaving their teeth under their pillows for the tooth fairy, reading their own bedtime stories to you before it's time to go to sleep, picking out their own clothes.
Independent.
I remember when I first realized my Mari wasn't a baby anymore; it was on our two-day trek South, to our new home here in Georgia. She'd already gone to kindergarten and was a terrific big sister to Lila, so there were glimmers of independence already there. But on the ride down, I remember her being excited about our family's new adventure of the possibilities that came with living in a new house in a new city in a whole ˜nother part of the country, far away from all the friends she'd ever known. It was during that trip that we noticed she could really read; every sign we sped past, she proudly called out the words and giggled when she got the really complicated words correct. Later that night, after she'd changed into her pajamas and cuddled in her car seat under her favorite blanket, she lost her first tooth. And when we checked into a hotel to rest up for the second leg of our drive, she gingerly placed her tooth under her pillow, fell fast asleep and made it all the way through the night without wetting the bed.
She was geeked, and so were Nick and I. But even through the high-fives and the laughter and the congratulations, I had tears in my eyes. My baby was well growing up.
While it's tough to get emotionally ready for your child's big kid status, it's not something we moms can fight. Instead, it's our job to help them embrace their newfound independence in ways that are healthy and safe, and give them the greatest opportunities for success.
To help your child toward independence, I've partnered with GoodNites® to host this incredible giveaway of products sure to help your child get the independence status s/he craves. Here's what you'll get in the GoodNites® Big Kid Gift Pack (valued at $250):
GoodNites® Product Vouchers. Pick the size and gender that works for your child so that you can give GoodNites, a product designed to keep kids and beds dry when they wet the bed, a try.
Skip Hop Bags. The perfect kid overnight bag for summer sleepovers.
Foogo Water Bottle: A great travel bottle that adjusts to children's developmental stages.
Bob Book. A great, calming bedtime activity for parents and kids in the beginning stages of reading.
Toothbrush and Hand Washing Timer. A fun tool for kids just learning about personal hygiene.
Night Time Chore Cards.  Helpful reminders for daily bedtime activities.
Kleenex Splash and Go Wipes.  A mom-approved summer helper for moms after outside play and traveling.
Bubbles.  A tried and true fun summer activity for all kids.
Crayons and Stickers. The time-tested tools every kid needs to help express creativity.
Movie Passes. The perfect rainy day summer activity for children who can finally sit through a movie and comprehend content.
$100 AMEX Gift Card. Perfect for, well everything!
Want to win it? Of course you do! Here's how you can score:
TO ENTER:
MANDATORY: Check GoodNites.com and then come back to MyBrownBaby and leave a comment telling me something you learned while visiting the website.
FOR EXTRA ENTRIES:
1. Like the MyBrownBaby fan page, then leave A SEPARATE COMMENT below saying you did so. (You MUST leave a separate comment, as it's the only way I can assign your extra entry.)
2. Tweet this:  This @MyBrownBaby giveaway would be the perfect way to help my kids to great days and #GoodNites! http://mybrownbaby.com/?p=1714 Leave A SEPARATE COMMENT below saying you did so. (You MUST leave a separate comment FOR EACH TWEET, as it's the only way I can assign your extra entries.) You can tweet ONCE PER DAY for up to three extra entries.
3. Join me at the GoodNites® Girls' Night Out Twitter Party with Mom It Forward on August 2, from 9 to 11 p.m. EST (8 CT, 7 MT, & 6 PT). Use hashtags #gno and #GoodNites to chat with us and you'll not only have fun, but earn yourself TWO extra entries. (YOU MUST USE THE HASHTAGS WHEN YOU PARTICIPATE IN THE TWITTER PARTY AND LEAVE A COMMENT SAYING YOU DID SO TO EARN THE EXTRA ENTRIES.
This contest ends at 11:59 p.m. on TUESDAY, AUGUST 2, 2011. It is open to MyBrownBaby readers in the United States only. Entrants must be at least 18 years old. One winner will be chosen via Random.org and announced at the top of this post. The prize pack will be fulfilled by the good folk of GoodNites® once the winner is announced. PLEASE BE SURE TO LEAVE A VALID EMAIL ADDRESS SO THAT YOU CAN BE CONTACTED IN THE EVENT THAT YOU WIN.
Good luck!
So you know: I recently partnered with GoodNites® to write about my family's experiences with bedwetting as part of the company's campaign to spread the word about dealing with nighttime accidents. Yes, I'm getting a check for this. No, they're not paying me to say nice things about their product. As always, my experiences and opinions are my own.
Mom. NY Times bestselling author. Pop culture ninja. Unapologetic lover of shoes, bacon and babies. Nice with the verbs. Founder of the top black parenting website, MyBrownBaby.