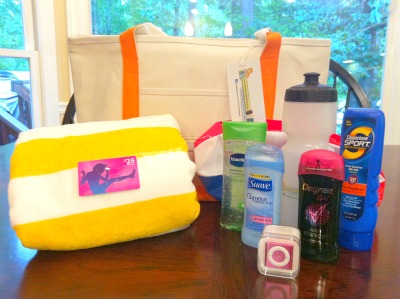 THIS CONTEST IS NOW CLOSED.
Thank you all for participating in this giveaway. Congratulations to Keonte, whose number, 47, was chosen via Random.org!
So Nick measured my Mari over the weekend and it's official: She's taller than me. The girl has me by a half inch. At age 12. Which means that between the first of the year and this summer, she's grown almost two inches. But she hasn't grown just in height; she's fast turning into a little lady conscious about the neatness of her locs, the cuteness of her outfits, the size of her purses. She wants to wash her face with fancy soaps and shower with sweet-smelling scrubs and hang out with her adorable friends who, too, are turning into little ladies right before my eyes.
I thought this would disturb me this transition of my first born from little girl to teenager. But it hasn't. At all. In fact, I'm kinda enjoying watching her blossom and using our downtime this summer to really connect with her in ways that we can't while school is in session and we're running around like maniacs from the classroom to the extracurricular activities to the homework to the swim meets and… ugh. We've been hitting the pool, walking the malls, reading, writing, listening to music and watching movies together, and talking about a little bit of everything from potty training to periods. And I'm grateful so very grateful that she's cool sharing her "sweat inducing" moments with me in ways that I never dreamed of sharing with my own mother.
This is the beauty of different. When it comes to talking about the hard things, answering to the curiosities, doling out the 4-1-1 in age-appropriate ways, I've deliberately chosen to be different with my babies, with the hope that they will be comfortable with me and I with them. And that's made this summer an unforgettable one.
And now, I'd like to make it an unforgettable summer for you, too! Or at least an unforgettable day. I've partnered with Don't Fret the Sweat for this awesome giveaway a gift bag with all the summer essentials, plus an iPod to bring along your favorite tunes, that you can bring to a relaxing day at the beach, pool or park. It's a gift designed to take the edge off of summer break, which we all know can be a tough time for moms who want to keep their kids active while managing "sweat-inducing" family moments from changing routines to the first day at summer camp to the tricky conversations that come as our kids change and question and grow.
Here's what you'll find in the Don't Fret the Sweat beach bag (valued at $137):
 Exclusive Don't Fret the Sweat beach bag
2GB iPod Shuffle
$25 iTunes gift card
Beach towel
Beach ball
Sports water bottle
Sunscreen (Coppertone SPORT, SPF 50)
Vaseline Daily Aloe Fresh Moisturizing Body Gel
Unilever deodorant sticks
Want to win it? Of course you do! Here's how you can score:
1. MANDATORY:  Click here to "like" the Don't Fret the Sweat Page on FaceBook, where I and a few other really insightful tween experts help parents navigate the many sweat-inducing moments of their tweens' lives and better understand the physical and emotional changes they're facing. Leave a comment there telling me what "sweat-inducing" moment you most fear with your little one(s). If you don't have kids, tell me about the worst "sweat-inducing" moment you had as a tween with your own parents. After you comment there, come back and leave the same comment in the MyBrownBaby comments section, so I can count your entry.
2. Want to earn an extra entry?  Click here to "like" the MyBrownBaby page, then leave A SEPARATE COMMENT below saying you did so. (You MUST leave a separate comment, as it's the only way I can assign your extra entry.)
3. And if you want another entry (or three!), tweet this:  "When it comes to my kids, I #DontFrettheSweat thanks to this @MyBrownBaby giveaway! http://ow.ly/5GiDY" Leave A SEPARATE COMMENT below saying you did so. (You MUST leave a separate comment FOR EACH TWEET, as it's the only way I can assign your extra entries.) You can tweet for up to three extra entries.
This contest ends at 11:59 p.m. on SUNDAY, JULY 24, 2011. It is open to MyBrownBaby readers in the United States only. Entrants must be at least 18 years old. One winner will be chosen via Random.org and announced at the top of this post. The Don't Fret the Sweat prize pack will be fulfilled by the good folk of Don't Fret the Sweat once the winner is announced. PLEASE BE SURE TO LEAVE A VALID EMAIL ADDRESS SO THAT YOU CAN BE CONTACTED IN THE EVENT THAT YOU WIN.
Good luck!
Mom. NY Times bestselling author. Pop culture ninja. Unapologetic lover of shoes, bacon and babies. Nice with the verbs. Founder of the top black parenting website, MyBrownBaby.