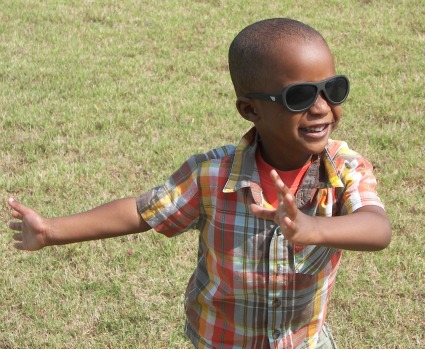 {Editor's Note: I know we've been talking a lot about potty training here on MyBrownBaby, particularly since I partnered with GoodNites® to talk about my experiences getting my girls to stop wetting the bed. Promise, I don't want to overwhelm you with the doing of the do, but this piece, by MyBrownBaby contributor Kia Morgan Smith, was just too funny. And plus, she needs our help desperately. Read on and leave a tip in the comments section!}
By KIA MORGAN SMITH
I'm on "Operation Lockdown."
All units (Kaelani, Mikaela, Kaitlin and Milan) have been notified that the target (aka Jo-Jo "The Poopy-Butt Boy") must be watched closely and dealt with swiftly! The house is under attack by "Poopy-butt" so momma's gotta pull out some heavy artillery to get our little man to rightfully use the can (uh, that's bathroom in military talk).
Okay, wait, the target is on the move around the house! Everyone in position. What… what's that you say? FIRE IN THE HOLE! He done pooped on the floor again? Damn. Mission Impossible!
This is exactly the craziness that's been going on in my house this past week. I am truly on Operation Lockdown trying to get my son to do his "bizness" in the potty. He just keeps doing Number 2 on the floor. And would you believe that he's actually potty-trained (except for the pooping part)? He wears underwear all day and night. He doesn't even use training pants when he sleeps. He wakes up at 2 a.m. every night and comes into my room to use the potty. He walks around all day and plays and tra-la-la's into my room, pulls down his pants, pees in the potty and handles his business like the little man he is.
But lawd, the potty can't be used for pooping. How gross that must be? At least I think that's what he thinks! Then he has the nerve to not poop on himself. One day I saw that his pants were on inside out. I gave him the side-eye, pulled down his pants and found that he had a different pair of underwear on. The ones he took off were in the trash and his poop was hidden under a towel on my bathroom floor. Oh yeah, and there was a wash cloth next to the towel with poop on it. He had sense enough to wipe his booty clean. (Anybody with that much sense should at least have a job too. Just saying)
Here's the thing, I watch him all the time but I have found that he actually hides from me and poops with pleasure somewhere secretly. I feel like Snow White with the seven dwarfs behind me as we all together go poop hunting around the house. Hi-ho, Hi-ho, poop-hunting we will go… Once I scolded him for pooping on the floor in his room and told him not to do it again. So he didn't. The next day he pooped in his sister's room on the floor. He got one-up on me with that one!
I even took the poop, put it in the potty, walked it into the bathroom, dumped it into the toilet and had him flush it. Eh, still didn't work. The next day he just found a cozy nook and my carpet became a porcelain throne of his own. I read everything that Babycenter and other websites had to say about how sometimes boys can be stubborn. I've climbed every mountain and searched every source from sea to sea. By default my husband has become a carpet-steam-cleaning connoisseur because we clean it every day Jo-Jo's been doing this.
His sisters are fed up dealing with his sh literally. I've even tried having him clean it up. Not a good thing with boys. That only incited his instinct to experiment and smear it on his wall, and dresser and he dumped it all over his sisters' dolls. Funny how I didn't find any poop on his Iron Man or Spiderman action figures.
So now, enough is enough. I had to get old-school with my boy. I'm on Day 3 of a total lockdown. I've locked him out of his room so he can't do the do in there. But in the process I've inconvenienced my daughters because I have locked them out of their rooms too so I can keep an eye on him. All doors in our home are locked down and the ONLY door that's open is my room the room that leads to the potty. So far this stubborn little boy has held his poop for THREE days! Mind you, he normally goes every day.
I can see, pawt'ner, we're at a standoff.
I would really like some feedback from those of you who have gone through this. What methods have you tried? I will put your suggestions into action and I will keep my fingers crossed and hope that he makes the connection to poop in the potty. That or I just might have to enlist his grandmom to help. And we all know that grandmoms can git er' done!
Kia Morgan Smith, author of the delightful children's book, Goony Goo-Goo and Ga-Ga Too, is a passionate and dedicated educator and former award-winning education reporter from Philadelphia. She has five kids and balances life like nobody's business all of which she chronicles on her blog,CincoMom. She lives with her husband and their family in Atlanta.
Mom. NY Times bestselling author. Pop culture ninja. Unapologetic lover of shoes, bacon and babies. Nice with the verbs. Founder of the top black parenting website, MyBrownBaby.