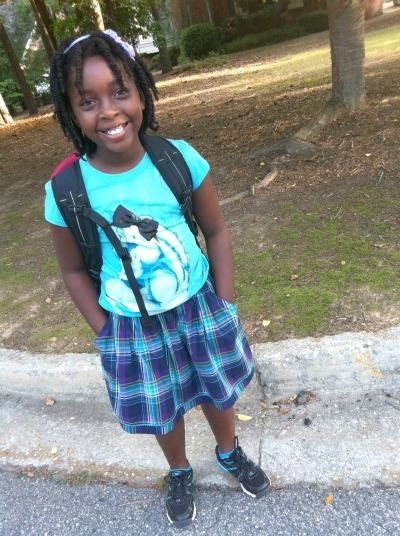 By ANDREA WOROCH
Thanks to steadily increasing cotton and labor costs, fashion manufacturers are cutting back on both quality and extras. Instead, they're using inexpensive tweaks to con shoppers into believing they're actually getting more for their money thus, the new slang term "con-flation."
It looks like parents aren't buying it, though. The National Retail Foundation released a study in late July indicating back-to-school shoppers plan to spend less this year across the board. According to the study, "Parents are actually taking inventory of last year's items, asking kids to… try on those 'old' jeans, and check if the tennis shoes still fit."
The Labor Department reported clothing prices rose 1.2 percent in July, the third increase in the last year. In 12 months, clothing costs rose 3.1 percent, the biggest yearly increase since July 1992.
Shopper pragmatism is one way to beat the system; another is to use cost-saving methods to reduce back-to-school spending. Here are six ways to get your kids to school in style and on budget.
1. Buy Quality
Manufactures are using inexpensive tweaks in clothing to con shoppers into thinking they're getting more for their money than they actually are. Using inexpensive fabric like rayon or cotton, or less fabric altogether, or fake pockets and buttonholes and cap sleeves have become standard for manufacturers looking to reduce their production costs; stores can charge shoppers up to $10 more for an embellishment that costs them pennies to produce. Be on the look out for cheaper zippers and cheaper plastic buttons as well as poor stitching; cutting back on quality may save manufacturers money and prevent major price increases in the retail industry, but it'll cost us moms more in the long run when clothes need to be replaced more frequently. Opt for better quality fabric, too, for longer lasting wear and tear.
2. Consider the Tweet
To make sure you're getting the best deals, sign up for e-newsletters to your favorite stores and brands for exclusive coupons and details of special promotions or exclusive sales events. You also can follow or "like" those retailers and brands on Facebook or Twitter for instant deals shared in real-time. Don't forget to "check-in" on Foursquare the next time you enter a store. You may just unlock a coupon!
3. Shop Online
The internet is the best place to find deals, coupons and compare prices among several retailers without leaving your house. Sites like CouponSherpa.com offer online coupon codes for free shipping and discounted orders, and it even features a free mobile coupon app so on-the-go shoppers never miss a deal. Simply present the coupon from CouponSherpa's mobile coupon app to the cashier for instant savings, featuring hundreds of popular stores like Kohls, Macy's, Gap and more. Reduce your costs further at stores that offer free shipping codes, or by joining free shipping clubs. If you choose to buy in-store, use RedLaser a barcode scanning app that provides instant price comparison on any product. Check SalesLocator.com (also available as a mobile phone ap) before leaving home to find local sales and discount events.
4. Consign and Buy
Kids grow out of clothes so quickly there's often still lots of wear left in them. Consignment stores turn old clothes into cash while offering potential purchases for new items. Most shops make you wait for payment until clothing is sold, but the consignment chain Plato's Closet pays at drop off.
5. Swap Clothing
Swapping is another way to cut back on clothing costs, especially for parents whose wallets can't seem to keep up with their growing kids. thredUp.com and Swap.com are among tons of different sites that help connect consumers with others who are looking to swap gently-used clothing and other merchandise. Members can make trades either locally or across the country, but long-distance swaps require both parties to pay for shipping.
6. Hold Out for the Holidays
Sales start after back-to-school shopping is usually completed. Shoppers who hold off until later in the fall or even for holiday sales like Black Friday, Cyber Monday, and Free Shipping Day can save on fall fashions.
Andrea Woroch is a consumer and money-saving expert for Kinoli Inc. As a nationally recognized media source, Andrea has been featured among top news outlets such as Good Morning America, NBC's Today, MSNBC, New York Times, Kiplinger Personal Finance, CNNMoney and many more. To view recent interviews or for more savings tips visit AndreaWoroch.com or follow her on Facebook and Twitter.
Mom. NY Times bestselling author. Pop culture ninja. Unapologetic lover of shoes, bacon and babies. Nice with the verbs. Founder of the top black parenting website, MyBrownBaby.