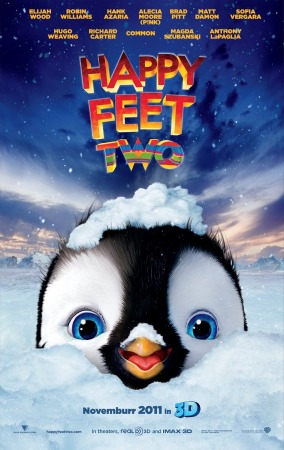 Note: The Happy Feet Two Penguin Pack Giveaway has ended. If you participated, head over to the giveaway post here to see if you won—and thanks for playing! For the MyBrownBaby readers who won family pack tickets to see Happy Feet Two screenings in Atlanta, Washington, D.C., and Chicago: I hope you had a blast. We sure did! Below is a review by my daughter Lila, age 9. Enjoy and, if you're so moved, shout out my baby in the comments section.
By LILA CHILES
My mom took me to see Happy Feet Two, a film about penguins who have a home near an iceberg. The lead character is Erik, a cute little penguin who is the son of Mumble, the daddy penguin who was the tap-dancing star in the original Happy Feet movie. Mumble is very nice and brave, but his son doesn't feel he is cool or can think outside of the box, and he's always accusing his dad of not understanding him, especially since he can't dance as fancy as his dad. So Erik he runs off with his two friends for a big adventure. When they stumble on a new community of penguins, they discover a very special penguin who can fly and Erik wishes that he could, too.
During his big adventure, Erik and his friends run into some big trouble, and Mumble has to come to their rescue, but Erik isn't impressed by his dad's smarts or bravery. But by the time they make it home, a big iceberg crash traps all of the penguins in a deep ditch that they can't escape, and Mumble and Erik finally prove to each other that they are both very brave.
To save their home, Mumble is helped by a funny cast of characters, including the flying penguin The Mighty Sven and his friends; a giant elephant seal named Bryan the Beachmaster, who is mean and honery but has a big heart, and two tiny krill, Will and Bill, who prove that no matter how tiny you are, you can make a difference.
I really liked the movie because it was very funny, exciting, and adventurous. I also loved the singing and dancing—it made me want to get out of my seat and dance, too. We saw it in 3-D, and it was the best 3-D I've ever seen! The pictures were super colorful and clear and it made me feel like I was right there in the snow and the sea with all of the animals.
I would totally recommend you go see this movie with your kids—especially in 3-D. If you do choose to go see it this weekend, please come back here to MyBrownBaby and leave a comment telling me if you liked it, too!
Happy Feet Two, starring Common, Matt Damon, Brad Pitt, Robin Williams and Modern Family's hilarious Sofía Vergara, opens in theaters nationwide today, November 18, 2011.
Mom. NY Times bestselling author. Pop culture ninja. Unapologetic lover of shoes, bacon and babies. Nice with the verbs. Founder of the top black parenting website, MyBrownBaby.