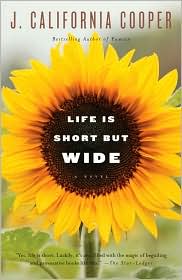 Goodness, there's nothing like a good, juicy read about family, and with the holidays and all that quality family time approaching, NorthParan.com, MyBrownBaby's favorite online bookstore,  pulled together a great list of family-focused books that'll inspire and make you reminisce, stretch your mind and toss up a high-five or two in honor of all the drama and shenanigans played out between the pages. If you're thinking about holiday gift-giving (remember: shopping early means you're shopping smart—and saving a load of cash!), remember that books are some of the most thoughtful gifts coming and going. Plus, if you purchase them from NorthParan.com, a new book will be given to a child in need. A win for everybody! Check out some of NorthParan.com's favorite family tomes:
1. My Brother's Keeper, by ReShonda Tate Billingsley.

In a captivating debut novel that is both humorous and heartwrenching, ReShonda Tate Billingsley spins an irresistible story that will touch every reader's heart. Aja James hasn't had it easy. She has kept a close watch over her siblings ever since tragedy robbed them of their parents. Tired of carrying the weight of the world on her shoulders, Aja is ready for a change.
2. Child of God, by Lolita Files.

Bestselling author Files spins the story of a Southern African-American family haunted by a cursed tangle of incest and murder in this magnificently conceived novel. Unfolding in an intricate weave of past and present, "Child of God" unveils the secrets and hidden lives of three generations of the Boten family.
3. Life is Short but Wide, by J. California Cooper.

With another multigenerational, wonderfully crafted Midwest ensemble cast, Cooper presents the town of Wideland, Okla., through the eyes of folksy nonagenarian Hattie B. Brown. This community sentinel, though sometimes short on memory, acts as tour guide and historian, introducing the town at the beginning of the 20th century, when the railroad first arrived and, with it, a growing population. Following the Strong family and their associates through the better part of the 1900s, Hattie finds history running roughshod through their lives, crushing some and strengthening others, introducing new generations and obstacles to love, home and happiness.
4. The Sweet Hell Inside: The Rise of an Elite Black Family in the Segregated South, by Edward Ball.

From National Book Award winner Edward Ball comes "The Sweet Hell Inside, " the story of the fascinating Harleston family of South Carolina, the progeny of a Southern gentleman and his slave, who cast off their blemished roots and prospered despite racial barriers.
5. The Ties That Bind: A Memoir of Race, Memory and Redemption, by Bertrice Berry.

When novelist Bertice Berry set out to write a history of her family, she initially believed she'd uncover a story of slavery and black pain, but the deeper she dug, the more surprises she found. There was heartache, yes, but also something unexpected: hope. Peeling away the layers, Berry came to learn that the history of slavery cannot be quantified in simple, black-and-white terms of "good" and "evil" but is rather a complex tapestry of roles and relations, of choices and individual responsibility.
6. Losing My Cool: How a Father's Love and 15,000 Books Beat Hip-Hop Culture, by Thomas Chatterton Williams. 
A pitch-perfect account of how hip-hop culture drew in the author and how his father drew him out again—with love, perseverance, and fifteen thousand books. Into Williams's childhood home—a one-story ranch house—his father crammed more books than the local library could hold. "Pappy" used some of these volumes to run an academic prep service; the rest he used in his unending pursuit of wisdom. His son's pursuits were quite different—"money, hoes, and clothes." Until a series of experiences, friends and his father's passion to expand his son's mind turned his world on its ear.
The North Paran Book Buzzlist is a weekly feature produced by NorthParan.com that gives readers an entertaining digest of the most fascinating books that are being talked about by the black community today. Remember: For every book you purchase at NorthParan.com, a new book will be given to a child in need!
Mom. NY Times bestselling author. Pop culture ninja. Unapologetic lover of shoes, bacon and babies. Nice with the verbs. Founder of the top black parenting website, MyBrownBaby.