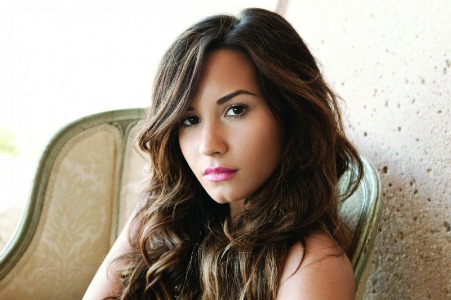 Today, I stan for former Disney Channel star Demi Lovato, who recently admonished her old network for joking about anorexia—the very eating disorder from which the former Sonny With A Chance star publicly struggled—in its uber popular tween sitcom Shake It Up.
In the offending episode, a supermodel surrounded by a bunch of fashionista clingers-on tells lead characters Rocky and CeCe (portrayed by Zendaya Coleman, 15, and Bella Thorne, 14), "I could just eat you up. Well, if I ate." Demi, who entered rehab at the height of her Disney show to deal with her public battle with anorexia, bulimia and cutting, took to Twitter to take Disney to task for making light of a serious issue and using its shows to tout unhealthy body images to young girls. In a series of tweets Demi said:
I find it really funny how a company can lose on of their actresses from the pressures of an EATING DISORDER and yet still make [a] joke about that very disease… #nice.

Is it just me or are the actresss getting THINNER AND THINNER… I miss the days of RAVEN, and LIZZIE MCGUIRE.

Dear Disney Channel: EATING DISORDERS ARE NOT SOMETHING TO JOKE ABOUT!
Disney responded via Twitter by yanking the 2010 episode and promising to "reevaluate" it. It added: "It is NEVER our intention to make light of eating disorders."
Now, I readily raise my hand to admit that I wasn't the biggest Demi Lovato fan after hearing news of her rehab stint. In my post, Demi Lovato Is Just A Girl, I wrote:
Here's the thing: As a mom who tries to be vigilant about keeping inappropriate shows and music off the TV and radio when my daughters are watching and listening—a Herculean effort considering how hypersexualized shows and songs rules the airwaves from the top of the morning and deep into the night—it ticks me off that shows made for kids are populated by teens with teen and grown-up problems, playing out their in-real-life insecurities, self-abuse and plain dumb behavior for their audience of little girls to see. It's even more disturbing when every second of the day, every place we turn for news and information is covering stories like Demi's as if they're at a beach bonfire, selling hot dogs and soda and tickets to see the latest star roasted like a piglet on a blazing open spit—as if an 18-year-old's struggle with fame and break-ups and self-mutilation is a popcorn-worthy, celebratory event, rather than a personal, human tragedy that's for Demi, her parents, and her doctors to deal with quietly. The tabloids get richer because of it, and Demi, young kids, mothers—we all pay for it in incalculable ways.
While I stand firm on my belief that kid networks like Disney, Teen Nick, and Nickelodeon—and the stars that drive their shows—try to grow up our kids too fast, I'm proud of Demi Lovato for using her powers for good. A simple, honest tweet changed not only that episode, but convinced the Disney Channel and its writers to be more vigilant about the messages they put out to our children. It also sent a powerful reminder to this mom that there's no place for complacency when it comes to talking to my girls about body image and beauty, particularly since they can go for hours watching those shows without seeing nary a child with hair, curvy-but-athletic bodies and chocolate skin like theirs. *Insert image of Denene calling her girls to the room for yet another convo about black girl beauty. *
RELATED POSTS
1. Demi Lovato Is Just A Girl… Now How Do I Explain This To My Kid?
2. The Attack Against Black Girl Beauty
3. And Now, the Part Where My Daughter Starts Hating Her Bootylicious Butt 
Mom. NY Times bestselling author. Pop culture ninja. Unapologetic lover of shoes, bacon and babies. Nice with the verbs. Founder of the top black parenting website, MyBrownBaby.