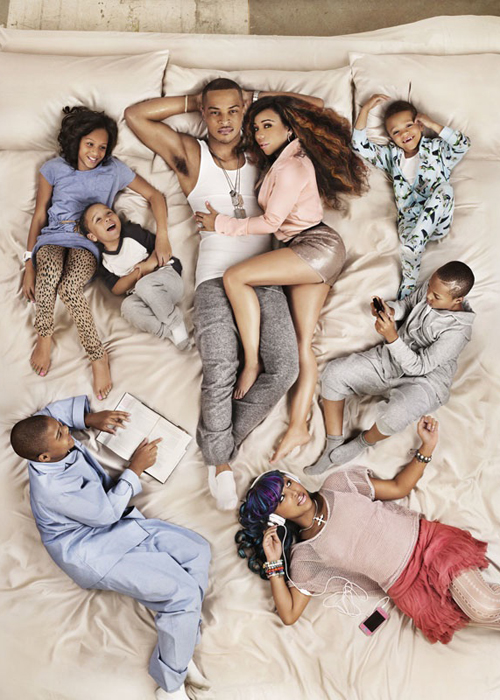 By NICK CHILES
Okay, I'm willing to acknowledge that up until this point, reality TV hasn't exactly shown mankind and womankind at our best. In most cases, it's quite the opposite: most shows seem to specialize in the train wreck version of interpersonal relationships. But recently I stumbled upon an exception to the rule: T.I. and Tiny: The Family Hustle. This new show focuses on the Atlanta rapper's efforts to get his life back on track after being released from prison. It's probably safe to say that when a show's premiere episode centers around the logistics of a guy being picked up from prison after a year-long bid, we shouldn't hold out much hope that we are about to be presented with an hour of uplifting, enlightening, hopeful television. But that's exactly what happened.
I'm not ashamed to say it: I love this guy.
I've always been a fan of T.I.'s music. Though my rap fandom has decidedly dwindled over the years, I always felt that T.I. (nee Clifford Harris, Jr.) had been gifted with the magic juice that enabled him to crank out joyous, anthemic monster hits, seemingly at will. But when you moved beyond his music, to my outsider eyes it looked as if everything else in T.I.'s life was a mess. He was a former drug dealer with a whole bunch of kids and baby mamas and he had been in and out of prison so often for guns and drugs and assault and other stuff that I figured they probably had his monogrammed prison jumpsuit hanging in a locker somewhere, awaiting his next stint. In other words, the man seemed to be an almost comical stereotype of the successful rapper desperate to hold on to his gangster lifestyle and his street cred.
Then I watched T.I. & Tiny: The Family Hustle. I was stunned by what I saw. Mr. Harris comes across as sensible, smart, centered, unselfish. And, most inspiring of all, a wonderful dad. The guy seems to be totally plugged into the demands and requirements of fatherhood, concerned about the messages his children are absorbing, about the decisions they make, about the environment that surrounds them. He appears to be thinking about them all the time and, as an in-demand performer, often weighing the impact of his career decisions on his kids…
Click here to read the rest of Nick's piece on T.I. and The Family Hustle at PopularCritic.com.
Mom. NY Times bestselling author. Pop culture ninja. Unapologetic lover of shoes, bacon and babies. Nice with the verbs. Founder of the top black parenting website, MyBrownBaby.