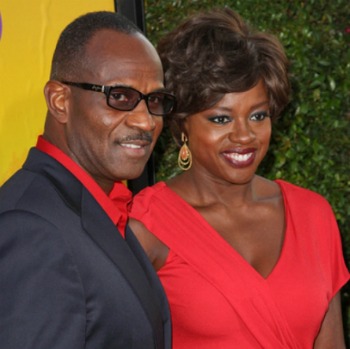 Academy Award-nominated actress Viola Davis, star of the blockbuster film, The Help, already is on the case making sure her daughter, Genesis, ends up with just the right guy. On Viola's mom-in-law-to-be radar? Sandra Bullock's cutie pie son, Louis.
"Oh yeah, I'd absolutely love to set her up with Louis," Viola told PEOPLE at the New York premiere of Extremely Loud and Incredibly Close, a new film in which she stars with Sandra, Tom Hanks and Jeffrey Wright. "That kid is so cute. He's going to be a bruiser. But let's try to get a play date in first. If they are ever in the same place, we'll get them together."
The Golden Globe and SAG nominated actress, who adopted little Genesis with her husband, actor Julian Tennon, in October, adds that becoming a mother gave her "a whole new purpose" and makes her "feel like a star at home… because she loves me so much. I mean, it's a red carpet everyday. It's wonderful!"
No word yet on whether Sandra Bullock is down for setting up a lifelong play date between her son, Louis, 23 months, and Viola Davis' Genesis, 16 months, but years from now when we're all old and gray, don't be surprised if you see the two of them in the pages of PEOPLE—maybe even together. (BTW, I'm not gonna lie: I've got husbands picked out for Mari and Lila, too. *ducking*)
RELATED POSTS:
Mom. NY Times bestselling author. Pop culture ninja. Unapologetic lover of shoes, bacon and babies. Nice with the verbs. Founder of the top black parenting website, MyBrownBaby.