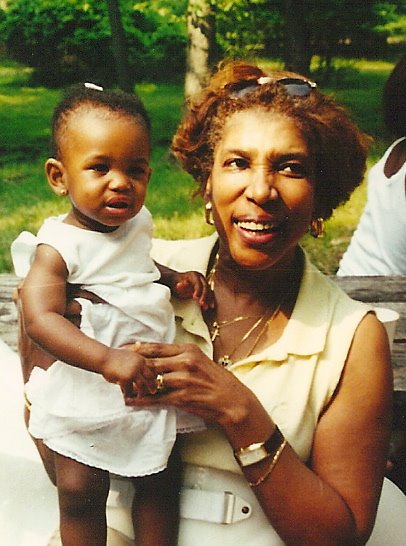 The tragic death of my mother still sears—still haunts me. There are days when I just, like, need her. That has been especially true over the past year, and certainly more so over the past few weeks. It's been a bit rough out here. And now, as her birthday approaches, I'm thinking, as I do every year, about the particulars—the whys, the hows, the what-could-have -beens.
See, my mother didn't have to die. Not in the way that she did. Not as soon as she did. She was only 62 when a heart attack sapped her of life—stole her breath. Slowly. Surely. In the most textbook of ways. At least five days before she passed, she was experiencing a series of flu-like symptoms—shortness of breath, weakness, unusual fatigue, dizziness, back pain. These were symptoms she was convinced she could shake. What she and our family failed to realize, though, is that my mother was experiencing all the classic female symptoms that signal a heart attack is imminent—signs of which all-too-many of us are completely unaware.
And so today, in the name of my mother, Bettye Millner, I implore each of you reading this post to GET AWARE. Know that:
Women tend not to have the clutch-your-heart, movie-styled heart attacks that men have; our symptoms are more likely to include all those that my mother experienced, plus nausea, lower chest discomfort, upper abdominal pressure and nausea.
Women can exhibit symptoms up to a week before their heart muscles suffer irreparable damage, leading us to believe that we're suffering from something other than a heart attack.
Heart attacks are the leading cause of death among all women, but black women are affected in even greater numbers, particularly because the risk factors associated with heart disease include diabetes, obesity and high blood pressure—huge health issues for us.
It's critical that we keep our heart muscles strong through exercise, weight control, healthy eating, refraining from smoking and watching our cholesterol and blood pressure.
I'm writing about this today not just to honor the memory of my mother, but also because I'm supporting Diet Coke's The Heart Truth® campaign to raise awareness about women's heart health. Thanks to the campaign, which is sponsored by the National Heart, Lung, and Blood Institute (NHLBI), more than half (54%) of women now recognize that heart disease is their leading cause of death, up from 30% in 1997.
But there is more work to do. Today, I hope in reading this post that you're inspired to lend your voices for the cause by spreading awareness for The Heart Truth® campaign and women's heart health programs by wearing red and showing your heart THIS WEEK (1/23 – 1/27). Take a photo of yourself rocking red and post it on Tumblr, Twitter or Instagram and tag it #ShowYourHeart to let others know you're boning up on your heart health info and that they should, too.
Know, too, that if you do choose to share your picture, you will be entered for a chance to win one of five trips for you and a friend to attend The Red Dress Collection Fashion Show in New York City—a super fun experience I had the pleasure of attending last year. Of the five winners, one will be selected to go on a shopping spree with a New York City fashionista. The rules are simple:
Upload a photo of yourself wearing at least one red artcle of clothing in support of women's heart health onto twitter, tumblr or, if you have an iPhone, on Instagram.
Tweet, share or post a picture and publish your submission photo. Be sure to include the #ShowYourHeart hashtag.
After the conclusion of each day, a panel of qualified judges determined by Diet Coke will select the best submission.  You can check out the official rules and prize details at DietCoke.com/HeartTruth.
RELATED POSTS:
1. I'll Always Love My Mama
2. Smart Heart Health: Black Women CAN Save Themselves From Needless Tragedy
3. How Do You Win the War On Childhood Obesity? Plant A Vegetable Garden With Your Kids
Mom. NY Times bestselling author. Pop culture ninja. Unapologetic lover of shoes, bacon and babies. Nice with the verbs. Founder of the top black parenting website, MyBrownBaby.