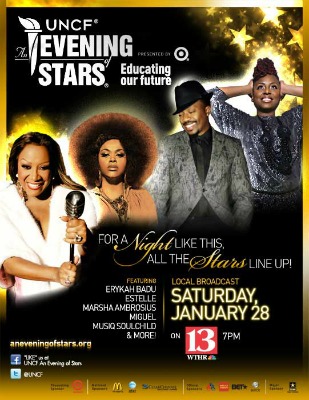 For more than three decades, the
United Negro College Fund's
phrase "A Mind is a Terrible Thing to Waste" has become part of our cultural lexicon—not just because it's seared in our collective memory, but because it symbolizes how the UNCF directly impacts the future of young African American students throughout the country. This weekend, the UNCF continues to highlight the best and brightest scholarship recipients and raise critical funds to keep dreams alive when the 33rd annual
An Evening of Stars
airs.
Check your local listings for the airing tonight, January 28th, 2012
OR, tune in to BET on Sunday, January 29th at 11:00 AM.
Stars like the legendary Patti LaBelle, Grammy award-winning singers Jill Scott and Erykah Badu, along with Marsha Ambrosius, Ledisi, Musiq Soulchild, Miguel and others will pay tribute to the foundation with electrifying performances and stirring personal stories. But let's not forget that we're tuning in not just to see great entertainment and hear inspirational stories; the UNCF needs us to support our own by digging into our pockets and donating funds that'll help teenagers of color get the critical funding they need for college. Indeed, a mind is a terrible thing to waste, and I can't think of anything more noble than to help a brown baby who wants to better themselves do so by helping them through college—in any way we can. Indeed, the UNCF plays a critical role in funding 400 scholarships and intership programs that make college tuition, books and room and board affordable for 10,000 students. A collective 60,000 students are helped by through operating funds the UNCF extends to its 38 member colleges—all of them small, private institutions that offer a small-college experience at tuitions that average more than 30 percent less than those at comparable colleges and universities.
Want to know how your money can help?
$20 helps a student with supplies.
$75 helps a student with notebooks and supplies.
$100 helps a student with fees
$500 helps a student buy textbooks for a semester
In other words, just a little goes a long way for kids who need our help. So tune in today or tomorrow to watch the performances, but more importantly, DONATE to the UNCF. You can do so here.
Enjoy the show!
Mom. NY Times bestselling author. Pop culture ninja. Unapologetic lover of shoes, bacon and babies. Nice with the verbs. Founder of the top black parenting website, MyBrownBaby.