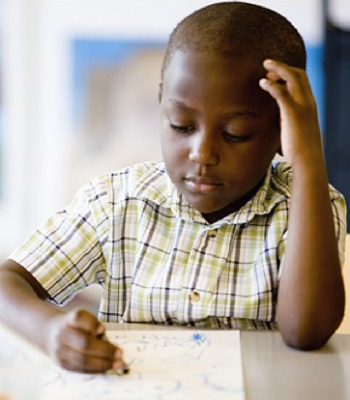 By Kia Morgan Smith
Sometimes I just want to throw my hands up and ask why and walk out of my kids' school with them in tow.
The work is not challenging, some of the teachers are uncaring and my kids are learning nothing more than how to answer test questions. I want them to be able to analyze, think deeply and be encouraged to be inquisitive. Shut up and sit down, should not be the vocabulary of the day. And insensitive test questions that reference counting how many slaves would get beat shows there's a lack of cultural empathy and understanding.
But I've come to realize the sad reality that if you don't have the dough to put your kids in a high-priced private school, then you probably have to settle for a half-baked public school education with a watered-down curriculum. See, the problem is that your child might get a good first-grade teacher, but then their burned-out second grade teacher with all of her mandates on test-taking and meeting AYP, will probably suck. Then the third grade teacher might be an OK educator fresh out the box, having recently graduated and all happy-go-lucky, but by the time Thanksgiving rolls around she's done had it up to here being a teacher, counselor, referee and commander, and is calling out every other day—and the substitute who takes her place doesn't really give a good hoot.
And even if your kid survives getting a so-so teacher, parents in Atlanta have come to learn that many teachers are so pressured to have their kids pass state tests that they changed test answers because their principals said to do so. The end result of all of this is just downright ugly and unfair to students. So we parents are put back at square one looking for reliable answers and alternatives for our kids' education.
See, I know all of this to be fact because I've been the burned out classroom teacher and even the tired substitute. I've been the educator who has given my all, blood sweat and tears to make sure my students got the very best education I could, stayed up late planning and putting together top-notch lesson plans, going the extra mile doing what I could to make sure no child was left behind, only to get brow beat by hot-headed parents and bungling administrators who were leading the school on a destructive path.
I've been on both sides. I've since stopped teaching school but returned recently to my kids' school to substitute when I have the time. The fact is that I did LOVE teaching and was great at it. But that same love and affection that I had for education is somehow lost among teachers. And as parents, we too are lost and at a crossroads.
At least I am.
As we speak, I have already submitted three applications to a local Catholic school for the Fall for my three elementary aged girls. I'm looking for help and change with hopes that a Catholic school will give them more time and attention and challenges where their public school has fallen short.
But this Saturday, I may feel differently about this decision, knowing that Tavis Smiley has stepped up to school parents and help arm us with knowledge to keep our kids from falling through the educational cracks.
Smiley is hosting the Too Important to Fail: Saving America's Children Education Summit at Spelman College. Smiley believes that together we can find solutions to issues like how to make sure academic and cultural needs of black students are met, how to prevent absenteeism among black males, what can be done to impact learning before age 5 and, most importantly,  how we parents can make a difference.
This type of summit is extremely important because I believe most teachers have fallen short; their expectations are low. Many teachers do not expect that their African American students will enter the door on grade level, ready to learn and therefore they do not set the bar high enough for them. Too many go to work, do what's required and leave. But what they fail to realize is that these students will rise to the occasion if someone takes the time to spark their interest, sprinkle in some compassion with a healthy dose of knowledge and endeavor to understand the underlying problems that keep black students from becoming high-achievers.
So at the summit Smiley has set up various sessions that parents can choose from to get to the root of some persistent classroom problems.
I will embrace this opportunity to learn about how my child can succeed in school. And I have no issue becoming a student once again just so I can make a difference in my children's future. Maybe this summit will be the catalyst that will inspire me to keep my kids in public school this fall once I learn some best practices. We'll see.
In any event, Smiley's summit definitely sounds like a blueprint to help carve out a plan to work hand-in-hand with my child's teacher. Because when everyone's got their hand in the pot and helps stir the soup to perfection, then nothing and no one gets burned. And knowing that is definitely worth me sitting in a seminar this Saturday.  And I hope you attend too.
Tavis Smiley Foundation Presents: Too Important to Fail Parent Education Summit
Date  Saturday, February 25, 2012
Time 09:00 am EST to 03:00 pm EST
Where  Spelman College
Room: Camille Cosby Academic Center
350 Spelman Lane SW
Atlanta, GA 30314
To register for the summit, which is FREE and includes lunch, click here.
Kia.
RELATED POSTS:
1. Police Officers in School? A Recipe for Student Failure
2. Slavery Math Problems in School? The Right Way to Do It
3. Atlanta Cheating Scandal: A Question of Character
4. My Four Sons: How One Dedicated Father Made Reading Fundamental for His Son
5. Mind Control: Raising A Critical Thinker

Mom. NY Times bestselling author. Pop culture ninja. Unapologetic lover of shoes, bacon and babies. Nice with the verbs. Founder of the top black parenting website, MyBrownBaby.