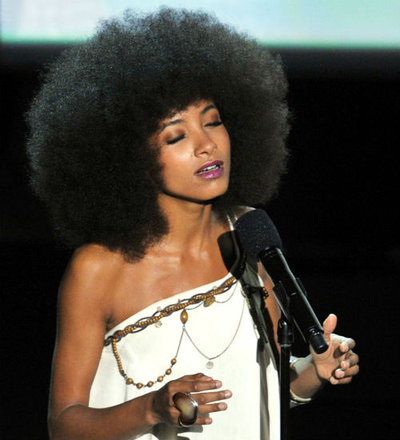 When my girls were babies, I used to nurse and rock them to sleep to the sweet sounds of Tony Bennett, Stevie Wonder, Kathleen Battle and the elements known as Earth, Wind & Fire. But the album that stays with me is Louis Armstrong's Disney Songs The Satchmo Way—particularly his version of "What A Wonderful World." There was just something about his gruff voice against that sweet, slow melody—those beautiful words—that moved me. Every one of those lyrics reminded me of just how blessed I was to be a mother—to have two beautiful chocolate miracles I'd spent an entire lifetime praying for. A wonderful world, indeed.
How awesome, then, to watch the sparkle that is Esperanza Spalding light up the stage of the 84th Annual Academy Awards earlier this week with her own sweet rendition of "What A Wonderful World?" Her humongous afro standing big and high, that sweet voice washing over the words:
I see trees of green
Red roses, too
I see em bloom
For me and for you
And I say to myself
What a wonderful world…
That song melts my heart—and Esperanza's version will melt yours, too. If you missed Esperanza's Oscar performance with the Southern California Children's Chorus—it was in tribute to great movie icons who passed away over the past year, including Whitney Houston, Elizabeth Taylor and Steve Jobs—press play below and listen. If you love the song—and trust me, you will!—you can purchase a download of Esperanza Spalding's "What A Wonderful World" on iTunes. Enjoy! (Oh—and keep you eyes peeled for MyBrownBaby updates on Esperanza's new album, Radio Music Society, which hits stores March 20th. Can't wait!)
Mom. NY Times bestselling author. Pop culture ninja. Unapologetic lover of shoes, bacon and babies. Nice with the verbs. Founder of the top black parenting website, MyBrownBaby.