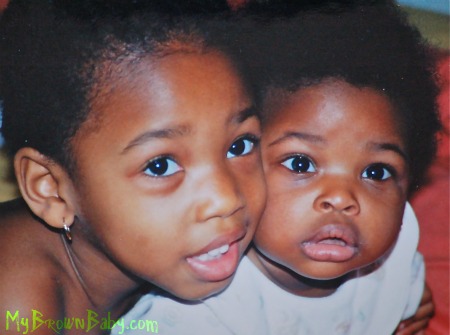 So, like, is it weird that I was totally obsessed with my Mari's hair before she was born? Seriously, I was—wanted to know if she'd come out bald or with a big ol' afro that would stand at attention, if her African American baby hair would be straight and wispy or if it'd be thick enough for one of the sparkly pink barrettes I'd bought to match one of the many dresses I'd collected for her burgeoning baby wardrobe. Would I be able to cornrow it? Put it in twists? Ponytails, maybe? Or sweet little coiled curls like the ones my favorite doll had when I was little?
Still, even as I daydreamed about my baby's hair and all the different ways I would style it, finding information on how to care for it proved elusive. Outside of the occasional warning not to braid her hair too tight or put tight hair bows and baubles in her hair, there was nothing/nada/zip/zero on how to properly comb, wash, condition, style and grow black baby hair. No tips on products safe enough for babies but perfect for thirsty, delicate natural African American hair. No suggestions for combing and detangling her dry, tight little curls without hurting her or damaging her locks. No info, even, on whether the typical baby products that every new mother seemed to use on her baby were actually okay for black newborn skin and hair, which simply has different needs.
Mind you, my Mari was born 12 years ago—way before you could type "how do I take care of black baby hair" into Google and a bazillion answers popped up, way before Afrobella, CurlyNikki and BlackGirlLongHair took to the internet to school black women on how to care for natural hair, way before YouTube was full of natural haircare how-to videos for kids—way before, even, black women embraced caring for, styling and rocking their hair exactly in the way it grows from their heads. Three years later, with the debut of my second daughter, born with 10 times more hair than my first and a whole 'nother set of curly black baby hair challenges, not much had changed.
And so caring for Mari's hair was a comedy of errors. She was born with a poof of hair at the top of her head, wisps on the sides and absolutely nothing on the back. Which means she had three different situations going on and a mother who was prepared for none of them. I washed it with the most popular baby shampoo on the market, and she ended up with cradle cap. The pediatrician prescribed a shampoo to help get rid of it, and my baby's hair got crazy dry. As she got older and her hair grew longer, I switched to popular children's shampoo that came in pretty packaging with fruity scents, and her hair got dry as a California forest. Her sister came along with all that hair and, good God, I was lost in a sea of three natural heads of hair (by then, I was natural, too) and clueless about what to do with them. Oh, and everybody had an opinion about what I should be doing with their hair, but nobody knew for sure and some of it made absolutely no sense (Kiddie perms? Old school hair products like Dax and Afro Sheen on little girl hair? Vaseline and baby oil? Seriously?)
I promise you, if I had a nickel for every time I or one of my African American girlfriends said there should be a natural hair care line for black babies, we'd all be able to retire to and live well in a mansion on a tropical island.
Luckily, African American moms have Google, YouTube, natural hair care websites like Happy Girl Hair and Beads, Braids Beyond and, miraculously, hair care products designed specifically with black babies in mind. And today, MyBrownBaby is proud to feature and offer one of the best on the market—CARA B Naturally.
CARA B Naturally is an all-natural line of personal care products formulated specifically for ethnically diverse babies, children and their families. The first and only NPA Certified Natural skin and hair care line for the ethnic market, CARA B Naturally enhances the natural beauty of babies and children with varying skin types and hair textures while avoiding the use of synthetic chemicals that can harm delicate skin and hair. The CARA B Naturally shampoo/body wash, leave-in conditioner/daily moisturizer, body lotion, moisturizing hair mist and baby soap are all made with only natural plant-based ingredients and contains no artificial colors, fragrances, parabens, petrolatum, sulfates, mineral oil or other crazy chemicals that do damage to our baby's tender hair and skin. And with shea butter, jojoba oil and sweet almond oil, aloe and Vitamin E making star appearances in the products, each leaves baby's hair smelling delicious, feeling soft and looking healthy—naturally.
I've been using the leave-in conditioner and moisturizing hair mist in Lila's hair to give her twists a daily boost and shine, and we've all been fighting over the body lotion, which smells yummy and leaves our skin feeling baby soft. I'm actually kinda kicking myself right now for not buying CARA B Naturally sooner, but I had my reasons: I don't tend to buy hair and beauty products online and we live in the middle-of-nowhere Georgia, easily an hour away from the specialty stores like Whole Foods that sell CARA B Naturally products.
But, I have extra great news: CARA B Naturally will now be sold in Target and CVS! The North Carolina-based company, founded by MyBrownBaby moms Kristi Booker and Landra Booker Johnson, rolled out their products in Target last month and this month, you'll find it in CVS locations all throughout the U.S.! Which means I—and you!—can get these incredible CARA B Naturally products just down the street. Plus, for a limited time, CVS will be running a Buy One, Get One 50% Off on all CARA B Naturally products. Score!
Win, Win, WIN one of two Cara B Naturally gift baskets with all of the line's products,

plus a $125 gift card to either Target or CVS!
To celebrate CARA B Naturally's entry into Target and CVS, MyBrownBaby and CARA B Naturally have put together a fun "i-Spy"-styled contest for MyBrownBaby readers. To enter, go to the CARA B Naturally CVS store locator at http://www.mycarab.com/cvs.asp or the Target store locator at http://www.mycarab.com/target.asp and tweet whether or not the product is in the store nearest you with the @MyBrownBaby handle and the hashtag #ILoveCARABNaturally. If you don't see CARA B Naturally at your local Target or CVS,  Tweet the town and state of the Target or CVS store that doesn't have CARA B Naturally products with the @MyBrownBaby handle and the hashtag #ILoveCARABNaturally.
Easy as pie!
TWO lucky winners will be chosen a week from today, so get over to the website and shout out #ILoveCARABNaturally and the store selling CARA B. Naturally. Good luck!
{NOTE: Official entry is via Rafflecopter below; follow the directions for additional entries and to see official contest rules}