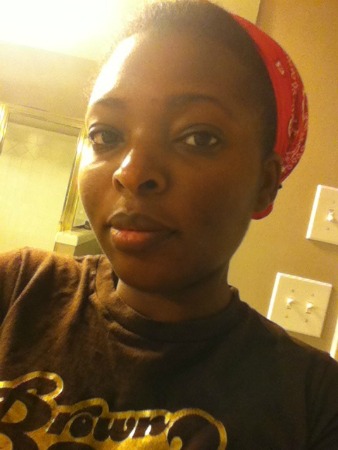 Over the weekend, someone whom I respect said something quite profound: If we criticized friends like we criticize ourselves, we wouldn't have any friends. And that is the truth. For sure, I'm the master of self-criticism—wake up in the morning with one on my lips, have them at the ready when I'm working and writing and playing and loving, go to sleep, too, with a few ringing in my head, too. What's with your hair? Why is your house such a wreck? How is it that you only wrote three stories today—all of them for free? Your skin looks like it belongs to a 14-year-old pubescent—what's with all the acne? Seriously: gain one more pound and that double chin is going to start holding conversations with you.
I can be such a bitch to Denene.
And honestly? Some days, I just don't like me.
This isn't a new phenomenon for me; I've spent a lifetime leading the "Denene sucks" parade. Charge it to the game I was taught to play early on: Be humble at all costs, don't speak unless spoken to, be tragically grateful for everything you get, even if you think you should have gotten more—these were the mantras of my childhood. They've had a divine impact in some respects; there is great value in not being a braggart, even greater value in being a good listener and thankful for your blessings.
But loving yourself, being your best cheerleader and standing up for what you deserve? Priceless.
And so, this month, I'm joining my friend Christie of ChatterboxChristie in her #Flawless12 campaign—a project the mom of two, who spent last year being candid about her struggle with weight and self-esteem, created to publicly declare that she is going to spend 2012 learning how to love and nurture herself. Project #Flawless12 begins today and, over the next 29 days, I'll be joining Christie in "flaunting my divine imperfections" and "creatively and boldly showing some self-love."
Christie isn't playing around, either; the first prompt is "You #NoFilter." We are to show ourselves in a picture first thing in the morning, sans make-up, sans camera tricks. Just us as we are when we wake up, before we put on the mask, before we create a mirage of our physical selves.
Yipes.
So there it is, at the top of this post. No one—and I mean no one—aside from my husband, kids, and my Lila's bus driver sees what I look like first thing in the morning. Headrag, dry lips, t-shirt, puffy eyes—it's not pretty. At least that what I say to myself. Funny thing is, my husband looks at me first thing in the morning, and he calls me… beautiful. Crazy hair, crazy face, crazy breath, all crazy everything, and he still talks to me like I'm the hottest woman on the planet.
If he can look at me and all my imperfections and see that, shouldn't I be able to?
I'm working on it.
I am.
Join Christie in the #Flawless12 project! You can answer the prompts in any way that moves you—pictures, blog posts, videos, tweets, status updates, pins on Pinterest, whatever. Answer them publicly, answer them privately—answer all of them or one of them. It's your choice. All about YOU. For more information, check out the #Flawless12 project here.
Mom. NY Times bestselling author. Pop culture ninja. Unapologetic lover of shoes, bacon and babies. Nice with the verbs. Founder of the top black parenting website, MyBrownBaby.