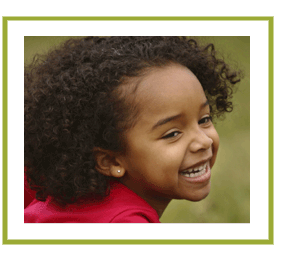 By TRISSHA TAYLOR
We live in a time that is constantly being referred to as the Information Age. Why? Because never before has information been so readily accessible. With just one click of a mouse we can learn about almost anything, and thanks to social media we can now learn of the latest trends at light speed. One trend that has been growing at a remarkable rate is the Black Hair Movement. I say black hair movement because whether we're natural or relaxed, we African American women know more about how to style, maintain and grow our hair than ever before and, dare I say, a few of us know more then a lot of the hairdressers out there!
Still, with the birth of this new Black Hair Movement, I often ask myself whether I'm teaching my daughters the right thing about their manes and whether they're absorbing messages about their hair from me and others.
I will never forget the day my eldest daughter walked into the kitchen and told me that a child in her class tried to put her down because her hair wasn't "straight."
"How did that make you feel, Muffin?" I asked her.
"I don't believe anything she says Mommy, so I told her just that," she said with confidence. "I love my hair, it's mine, and it's an important part of me".
I paused for a short moment, because not only does my child never cease to amaze me, but I remember my own experiences with hair and mean "non-black" children, and I know for a fact that had that been me, I would have folded—I would have burst into tears. Yes, I know what you're thinking: that's a little outlandish. And you would be correct. But there is pain behind that reaction. As a child, I had long beautiful hair until I was six years old; that's when my mother decided that my hair should look just like those girls on the kiddie perm box. Needless to stay, I instantly went bald that day, and since then, my hair has never been the same.
My daughter snapped me out of my daze. "Mom," she started, "what I don't understand is why is it that out of all the girls in my school who look like me (there are only about 3) and have hair like me, none of us have long hair. Are we born this way until we get a weave?"
After sitting  her down and going through the importance of her standing up for herself and loving and accepting ourselves no matter what anyone says or thinks, I began to explore her comments more deeply. What is it about our community that makes naturally long hair such a scarce yet valuable commodity? What message are we really teaching our children? How does it compare to what we've been taught? I sat down for night on end, researching black hair; both my children and I have different hair types, and pouring through the wealth of information on black hair care has been a very humbling experience. Now, I'm sharing that information with my daughter and I've made them a promise to do everything I can to help and to teach her how to maintain, retain and love her mane!
"To answer your question," I said to her, "the thing that is special about your hair is that it is, in fact, your hair, and while it is very different, just like anything else about your life and your destiny, you have the ability to make it or break it! Literally. I can't speak for anyone else's child and why their hair is the length that it is, but I promise for the next 12 months, we are going to learn how to grow your hair, so when you're a grown up, you can have the option of a weave if you'd like but it will not be your last resort if you want longer hair."
For the next few months and hopefully longer I will be sharing me journey with you.  I only hope my experiences will be enlightening for other moms looking for help in growing and maintaining their children's hair. Have you ever had simular experiences with your own child(ren)? What values did you pick up about your own hair as a child? Are you part of the "I got a perm before my period" club?
Naturally yours,
Trish.
Trissha Taylor lives in Toronto with her daughters. She writes about her kinks, curls and wonderful girls at HoneyCurlsTV. Follow her on Twitter at @HoneyCurlsTV.
Mom. NY Times bestselling author. Pop culture ninja. Unapologetic lover of shoes, bacon and babies. Nice with the verbs. Founder of the top black parenting website, MyBrownBaby.