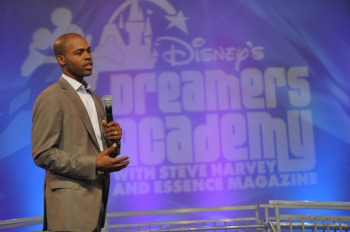 By LORRAINE SANABRIA ROBERTSON
Dr. Ian Smith, medical/diet expert on VH1's Celebrity Fit Club, author and founder of The 50 Million Pound Challenge, shared these words of wisdom with the 2012 Class of Disney's Dreamers Academy with Steve Harvey and Essence Magazine this past weekend.
"Your health is your foundation."
Word.
Dr. Smith went on to encourage the young people to follow their dreams and make healthy choices. He was one of many celebrities and professionals involved in the 5th annual event at Walt Disney World Resort. The life-changing weekend was developed to motivate high school students in grades 9-12 to achieve their dreams. One hundred kids are selected annually to participate in the Academy, where they take part in four days of educational experiences; interactive career workshops; motivational talks and networking opportunities with Disney executives, sports and entertainment celebrities, industry professionals and community leaders who share their stories and blueprints for success.
I've had the opportunity to attend the event four out of the five years—I was honored to serve as a judge for the 2011 Class of Dreamers. I can tell you firsthand it's absolutely incredible to see the effect it has on the Dreamers, their chaperones, the speakers and everyone involved. I get excited at the thought of empowering and encouraging our youth; I just might do back flips when you add healthy living into the mix. With child obesity at an all-time high and heart disease plaguing the African-American community, I was thrilled when Dr. Smith started schooling our young folks on the importance of taking care of their bodies.
After his session, the good doctor took a moment to chat with me about Disney's Dreamers Academy and offered some healthy tips for parents and kids. Click on the video below.
Registration for Disney's Dreamers Academy normally opens in July and closes in October. To nominate your child or someone you know for this incredible event please visit www.DisneysDreamersAcademy.com.
Disclosure: My travel and accommodations were provided by Disney; as always my thoughts and opinions are all my own. 
Lorraine Sanabria Robertson, a freelance writer and successful public relations consultant, is author of Help! I'm a Newlywed What Do I Do Now? Wife-Saving Advice Every New Bride Must Know to Survive the First Year of Marriage (30 Miles Media, Inc.). She blogs about marriage, motherhood and mayhem at RunWifeyRun.com, and is co-founder of The Blog Rollers, a site dedicated to promoting the power of female bloggers and the brands that support them. She lives in Atlanta with her husband and their two children.
RELATED POSTS:
1. Tales of a (Not So) Supermom: Busting the Multitasking Myth
2. Ask Wifey Q&A: How Do I Get My Man To Ramp Up Valentine's Day Romance?
3. Wish Upon a Star with Disney and Steve Harvey

Mom. NY Times bestselling author. Pop culture ninja. Unapologetic lover of shoes, bacon and babies. Nice with the verbs. Founder of the top black parenting website, MyBrownBaby.