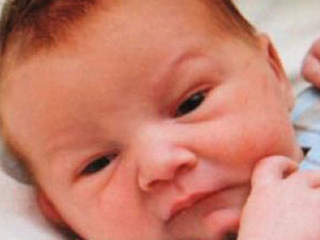 Today, we ask that MyBrownBaby readers take a moment to wish a peaceful journey for Kala Marie Golden, the mother who was shot to death outside her Texas pediatrician's office as her murderer coldly snatched her 3-day-old son and drove off.
Police found little Keegan unharmed, just six hours after he was kidnapped outside a clinic in Spring, Texas, near Houston. Authorities say they've arrested Verna McClain and charged her with capital murder for allegedly repeatedly shooting Kala and driving off with the newborn as Kala, dying from multiple gunshot wounds, reached into the getaway car, screaming, "My baby! My baby!"
Montgomery County District Attorney Brett Lignon told ABC's Good Morning America he does not think Kala was specifically targeted outside the Northwoods Pediatric Center, where the incident occurred just after 2 p.m. The Montgomery County Police Reporter says authorities told the newspaper that McClain, a registered nurse, confessed to shooting Kala and kidnapping the baby so that she could adopt him and that Kala was simply in the wrong place at the wrong time.
Baby Keegan was found after a statewide emergency alert was issued; he is in state child protective services until he can be reunited with his father.
Joshua Jesson told The Associated Press that he was in the clinic with his girlfriend when he heard gunshots. He said he'd seen a Lexus—the one described by other witnesses as the getaway car—parked next to Kala's red pickup truck, then, later, looked back only to see the Lexus gone and a woman lying in the spot where the Lexus had been parked. "I thought she just passed out. Then somebody ran in here and said, `Somebody got shot,"' Jesson said.
Shortly after the shooting, police surrounded the clinic and the parking lot with crime-scene tape and placed yellow markers next to a purse, a pair of brown sandals and spent ammunition near the red pickup truck.
My God, I simply cannot imagine the absolute heartbreak Kala's family must be going through right now. In the course of three days, Kala experienced the sheer elation of motherhood—the miracle of bringing new life into the world—and the absolute horror of taking her last breath as she helplessly watched her baby being kidnapped. I joked just a few weeks ago about Beyonce's first public walk with little Blue Ivy and related it to how scared I was to leave the house when my first baby was born. I avoided the park, the store, friends' houses and even hesitated about taking her to her first pediatrician visits out of fear that Dave-the-Dope-Fiend-Shooting-Dope-Who-Don't-Know-the-Meaning-Of-Water-Nor-Soap would hurt me, snatch my newborn from my arms and disappear. I was making fun of myself for being so incredibly paranoid. For being a scary new mom.
And now this: a new mom's worst fears, realized.
Though this is all fresh and hot and searing, I thank God that baby Keegan is too young to remember witnessing his mother's shooting death and his own kidnapping, but am deeply sorry that he will have to grow up without his mother. And I pray with all my might that Kala Mari Golden's family can employ the might of angels to surround baby Keegan with love and protection as they grapple with why this young Texas mother was shot to death and seek swift prosecution and punishment of the person responsible for this madness.
RELATED POSTS:
1. Beyonce's First Time Out With Blue Ivy Carter: Remembering the Newborn In Public Jitters
2. Missing for 8 Years, A Boy Will Reunite in Texas With His Real Mother
3. A 10-Year Sentence for Baby Snatching? It's an Outrage!
4. UPDATE: Mom Who Abandoned Young Daughters On Brooklyn Street Corner Is Caught 
Mom. NY Times bestselling author. Pop culture ninja. Unapologetic lover of shoes, bacon and babies. Nice with the verbs. Founder of the top black parenting website, MyBrownBaby.