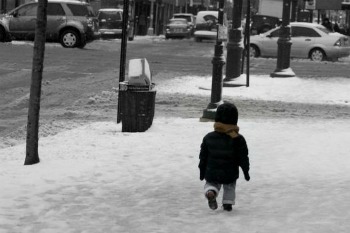 By NICK CHILES
There was a story that sprang to my attention a couple weeks ago and it's been bothering me so much that I had to write something about it. It involves a 6-year-old boy in the Bronx who was saved by the school janitor when the boy was approached by a crazy-looking man who claimed to be his uncle and who was trying to take the boy away with him.
The janitor, a man named John Velasquez, sensing that something was not right, asked the little boy if he knew the man and then grabbed the boy's hand and pulled him into the school. The janitor said the man's eyes were bulging and he looked like he was "definitely on something."
While that all sounds horrific and the janitor certainly deserves the praise that came his way, there was another part of the story that floored me. It was this line in a piece on the Huffington Post:
While the 6-year-old usually walks to school alone in the morning, his mother accompanied him on Monday to thank Velasquez.
The story doesn't dwell on the implications of this sentence; it just moves on to describe the man and the cops telling people to be on the lookout for him. But excuse me if I dwell for a minute. This is a 6-year-old boy. In the Bronx. Walking to school alone.
Is anyone else as disturbed by this as I am? I was born in New York and I lived in the city for many years, though never in the Bronx (at various times in my life, I've called Manhattan, Brooklyn and Queens my home), so I don't want to look like I am indiscriminately trashing one of the boroughs. But anyone who has ever been to New York and the Bronx in particular knows that those streets are not the safest places for 6-year-olds. Hell, I live in a bucolic suburb in Georgia and we still walk out to the bus stop with our fourth-grader, who is just days from her 10th birthday.
My question is: What kind of crack do you have to be smoking to let your 6-year-old walk to school alone in the Bronx? And why weren't child welfare authorities instantly on the scene, asking this mother what was wrong with her?
But maybe it's just me. Maybe I'm being too harsh. I do recognize that the prevalence of crime stories, particularly those involving children, in our 24-hour news cycle means that when a kid gets abducted in Colorado, I'm going to hold my kid just a little closer in Georgia, even if I'm thousands of miles away. That's just human nature, and it probably results in us being overprotective of our kids. But hey, you never know. Just a few days ago, we discovered that in our previously mentioned
"bucolic suburb," there was a sexual predator living down the street JUST THREE HOUSES AWAY FROM US. Dude was on the news last week and everything for trying to lure young boys into his home. All these years, just down the street. The only thing that was keeping him from being registered as a sex offender is his previous case was still working its way through the system. But then he struck again. Or at least he tried to, but the boys got away. When we wait at the bus stop with our little girl, we can actually see the creep's house—though he actually lives somewhere else with his parents and apparently just used the empty house for his little boy encounters. Ugghh! The whole idea of it makes me want to hit somebody. Hard.
Anyway, I digress. A necessary digression, but a digression nonetheless. I would like to know how others feel about this stuff. How do you feel about a 6-year-old walking to school alone in the Bronx—or anywhere else in these here United States, for that matter? Are we as a society of parents overprotective—or not protective enough?
Where do you stand?
RELATED POSTS:
1. Summer Madness: Dangerous Stuff I'm Going To Let My Girls Do During Vacation
2. Halle Berry Wants President Obama To Stop Paparazzi On the School Pick-up Line
3. We Have to Protect Our Children from Stress
[Photo credit: Schmuli Photo]
Mom. NY Times bestselling author. Pop culture ninja. Unapologetic lover of shoes, bacon and babies. Nice with the verbs. Founder of the top black parenting website, MyBrownBaby.