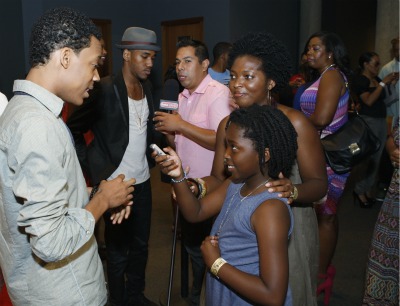 A sneak preview of the Disney Channel's new original movie, Let It Shine, snuck into Atlanta on Friday and MyBrownBaby contributing kid reporter Lila Chiles—a.k.a. my baby girl—was there working the red carpet as stars Tyler James Williams (Everybody Hates Chris), Brandon Mychal Smith (So Random!), Coco Jones (Radio Disney's Next Big Thing) and Trevor Jackson (SyFy's Eureka) debuted their new movie.
I have to admit that I was caught off-guard by the film; the good folk at Disney extended the invitation for me to bring the girls to the premiere and I happily accepted because, well, I thought it would be a sweet (free!) treat. It wasn't until I happened upon a Let It Shine commercial—rather, I saw my girls mesmerized by said commercial—that I realized the flick features an all-black cast and a universal story with distinctly African American undertones.
Let It Shine is a gospel/hip-hop musical adaptation of the 1897 play "Cyrano de Bergerac"; Tyler plays 16-year-old Cyrus DeBarge, a self-doubting rapper, songwriter and producer who wins a music contest, only to have his best friend, Kris (Jackson), be mistaken as the artist. As Kris's star factor rises and he gets romantically involved with pop star Roxanne (Jones), Cyrus reluctantly agrees to let his best friend steal both his shine and the girl he adores—to his own detriment.
I won't give away too much of the film, except to say that my girls loved it and Nick and I did, too. In the coming weeks, Lila will be doing her own review, plus writing about her fab experience on the red carpet, and we'll also be doing a giveaway of the Let It Shine soundtrack, featuring 12 original new songs that'll make your kids (and you!) want to sing, shout and dance it out.
What I will tell you today, though, is that it was especially interesting for me as a mom to watch my almost 10-year-old daughter, dressed in her adorable outfit and armed with her own tape recorder and the poise of a professional, interview celebrities she absolutely adores. I half expected she'd have a Justin Bieber fan-like fall-out when Tyler walked out to her; our family has adored Everybody Hates Chris from its inception and to this day, we choose to watch the syndicated reruns over most other original programming. But Lila held her composure, asked her questions, smiled (and giggled!) and politely said, "thank you" when she got her answers from Tyler, cracked up as Brandon played a practical joke on her, and beamed with pride and black girl power when she, a beautiful little chocolate drop, stood face-to-face with Coco, an absolutely gorgeous dark-skinned beauty who, no doubt, understands the impact she's making by giving legions of little black girls who watch the Disney Channel a shining example of someone who is cool, fresh, beautiful and looks just like them.
As a mother raising two beautiful brown girls, this made my heart swell.
Stay tuned for more MyBrownBaby coverage of this groundbreaking new Disney Channel original movie, which airs on June 15. Mark your calendars and make it your business to support Let It Shine—and make the case for more programming starring actors of color—by encouraging your kids to watch it. Trust me when I tell you: you'll want your kids to see more films like this one, in which parents are respected, kids act their age, moral values are in long supply and superb talent makes the story cool and relatable.
In the meantime, enjoy the Let It Shine trailer below!
RELATED POSTS:
1. The Attack Against Black Girl Beauty
2. Score Two In The Black Girl Battle Against Lazy Beauty Standards
3.Raven Symone on Disney's Tinkerbell, Sage Bill Cosby Advice, and Ducking TMZ
4. It's A Whole New World: Disney's First African American Princess Takes A Bow
Mom. NY Times bestselling author. Pop culture ninja. Unapologetic lover of shoes, bacon and babies. Nice with the verbs. Founder of the top black parenting website, MyBrownBaby.