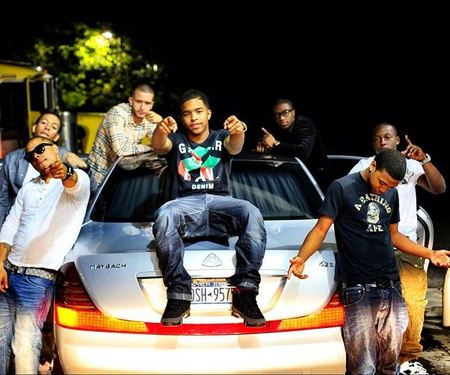 Last time I checked, there was cause for celebration if an African American teenage boy earned a full scholarship to a sterling college based on his academic and athletic talent. Not so much, though, for Justin Combs, son of multi-millionaire hip hop mogul Sean "P. Diddy" Combs, who recently was awarded a full ride to UCLA—a $54,000 merit-based scholarship all-too-many think young Justin neither deserves nor should accept.
The issue? Just last month, FORBES named Justin's dad the wealthiest artist in hip-hop, with a net worth of $550 million thanks to his share in Ciroc vodka; the clothing lines Sean John and Enyce; the marketing firm, Blue Flame; the music label he founded, Bad Boy Records, and; a handful of tech start-ups. The FORBES article adds that if Diddy's new Comcast cable channel, Revolt, pops off when it's launched in 2013, Diddy could rise to billionaire status. Which basically means Diddy could probably find $54,000 worth of change in the posh sofas of his luxury Hampton home to pay his kid's tuition and room and board at UCLA and doesn't need an iota of help covering his kid's college expenses. Can't stop, won't stop—eh eh, eh eh.
It doesn't help that UCLA, a publicly-funded state school in California, has been going through it financially—hiking tuition, cuttings its budget to the bare bones and pepper-spraying students for peacefully protesting their school's financial predicaments. The general consensus: Justin should give back his scholarship duckets and let his rich daddy pay his UCLA tuition and room and board so that an equally accomplished but otherwise needy student can have a shot at earning a degree.
It's a valid argument—sure. But, in my humble opinion, wholly unfair. I'm a scholarship kid—won a full-tuition ride to college from my then-local newspaper, Newsday, for all the solid work I put into my grades in general and my high school journalism studies in particular. Earning that scholarship was, at the time, the biggest accomplishment I'd ever had in my young life—a fitting reward for the hard work I'd put into my classwork and extracurricular activities at school. Did I need the money? Hell yeah. I assure you, my dad is not a hip hop mogul. But I would have worked for that scholarship just as hard, even if my parents were swimming in cash.
I'm also the stepmom of an academic athlete who slayed it both on the football field and in the classroom—much like Justin Combs did at his high school in Mt. Vernon, N.Y. Mazi was in the books, taking honors courses and putting in work on the field while some of his fellow ballers slacked in the classroom—a work ethic that was not lost on college recruiters. When it came time to divy up merit-based and athletic scholarships, it was clear by the steady traffic of recruiters in our living room and on our phone that Mazi did the right thing: he worked hard and the powers that be did what they could to make sure he could continue excelling by getting a sound college education.
That's all to say that Justin Combs didn't get his scholarship because of his daddy's cash. Sure, his father has the means to send his son to football camps to hone his skills and pay for tutors to make sure his son understood and excelled in school. But you don't get a 3.75 grade point average because your father is a half billionaire. You get a 3.75 GPA because you've been sitting at your desk with your books open, when you could have been doing a whole lot of other things, like spending your father's money. You don't get recruited to a top-notch college football program because your daddy managed Jodeci, Mary J. Blige and Biggie. Clearly, this kid did the kind of work that made him extremely attractive to a school that would feel compelled enough by his work and field prowess to give one of their precious scholarships to him. For this, Justin (and his mother and father and anyone else who helped this child excel academically and athletically) should be applauded. My college football playing son and his best friend, also a college athlete, assure me that young Justin won't be skating in the locker room and on the football field, either; the chances of him getting dogged out by his team mates for just, like, breathing, are exponentially higher because he's Puffy's son. Justin will be continuing to earn his spot at UCLA in more ways than one.
Of course, it would be nice if Justin Combs' dad told UCLA that he appreciates their awarding his son a scholarship and he would like to thank them by establishing a full-ride scholarship for a needy student in his family's honor. That would be an awesome thing for a half billionaire like P. Diddy to do for his kid's school, particularly as it—and its students—struggle to make ends meet. It would be all the better if Sean Combs—he who is never shy when it comes to bragging about his good fortunes—kept that kind of generosity under wraps. It is, after all, nobody's business what Diddy does with his hard-earned cash and he is not obligated to announce to anyone how charitable he is. Those he helps know and appreciate it—and that is what counts. And if no one else will say it, we will here at MyBrownBaby: Congrats, Justin. Job well done!
RELATED POSTS
1. The Boy Is Going To College!
2. Off On His Own: Preparing For Our Son's Big College Send-Off
3. My Son, Too.
4. Losing His Cool: Author Thomas Chatterton Williams Breaks Down Black Boys Vs. Hip Hop
Mom. NY Times bestselling author. Pop culture ninja. Unapologetic lover of shoes, bacon and babies. Nice with the verbs. Founder of the top black parenting website, MyBrownBaby.