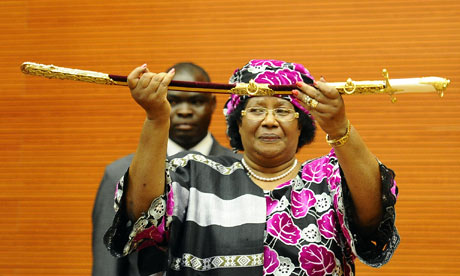 By NICK CHILES
If you don't know who Joyce Banda is, keep on reading. She has just been installed as the first woman president of Malawi and the third female president on the African continent.
This is something you should tell your little girls. I know I will tell mine. Because just the image of this black woman rising to power—in a place that has not been known for its warm and loving embrace of female empowerment—is a big deal. It's something that makes me feel a little better, just knowing about it, just watching the video of her installation.
The African continent gets brutally stereotyped as a place where human rights, women's rights, is nonexistent. In many cases it's because there are atrocious things being done to women much, much too often. Just last week, I wrote a story on AtlantaBlackStar.com about the scary prevalence of rape in South Africa, where one estimate says a woman is raped every 17 seconds and another says a woman has a better chance of being raped than of learning how to read. But when things go right on the continent, when there are signs of progress and joy, we need to call attention to those, too. Such is the case with Joyce Banda. After being elected as the country's first female vice president, Banda was sworn in last month as president following the sudden death of President Bingu Wa Mutharika.
Banda has been a tireless worker for women's rights and equality on the continent. Her elevation to the highest office in Malawi is a hopeful sign. Click the video below and watch this graceful woman be sworn in. And then show it to your daughters.
Mom. NY Times bestselling author. Pop culture ninja. Unapologetic lover of shoes, bacon and babies. Nice with the verbs. Founder of the top black parenting website, MyBrownBaby.