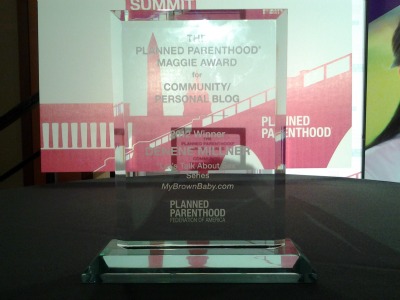 And in today's Awesome MyBrownBaby News: MyBrownBaby, the award-winning, critically-acclaimed site that focuses on both loving and raising African American children and the intersection of parenting and race, won the a 2012 Maggie Awards for Media Excellence for our exceptional coverage of reproductive rights and health care issues. MyBrownBaby was honored in the Community/Personal Blog category, a newly-created award recognizing social media frontrunners, for its 2011 series, "Let's Talk About Sex," a month-long campaign to help African american and Latino parents better communicate with their children about sex and healthy relationships.
This. Is. So. Awesome.
MyBrownBaby contributor Michelle Bond of CoffeeBreak68, who, along with Tara Pringle Jefferson of The Young Mommy Life contributed their insight, intelligence and beautiful words to the series, accepted the award on behalf of MyBrownBaby at a ceremony yesterday. MyBrownBaby joined winners from Mother Jones, Tumblr, Essence, the HuffingtonPost and Garry Trudeau, the artist behind the Doonesbury comic strip.
Thank you Planned Parenthood, for being a tireless advocate on behalf of women and our reproductive health; our ability to keep ourselves healthy and make choices about when and how we become mothers only allows us to be better parents to our children. Thank you, too, to the MyBrownBaby readers, who rock with this website everyday, reading, commenting and sharing with us your tips, tricks and valuable insight into raising and loving children of color.
I am especially grateful to Michelle and Tara, who didn't hesitate to join me in sharing their insights here on MyBrownBaby when I told them about the concept of the "Let's Talk About Sex" series. They are two of my favorite voices from around the web, and I am deeply honored that they were willing to share the good, the bad, the funny and the tragic about how they are, have and will talk to their children about sex—moving pieces I believe helped MyBrownBaby readers get comfortable about starting the sex talk with their own children.
It's a mission I continue to be passionate about; parents of color need the tools not only to be better parents but to help their kids be smart when it comes to sexual health in general and sex in particular. The statistics don't lie: with teen birth rates and STDs soaring among young black and Latino teenagers, talking to our kids honestly about sex is not only the right thing to do—it's incredibly necessary. Crucial, really.
I invite you to check out the series in its entirety and to share it with every parent you know. Together, we can raise children who are informed, smart and proactive about their sexual and reproductive health—the surefire way for them to make good choices for their bodies and their lives.
Mom. NY Times bestselling author. Pop culture ninja. Unapologetic lover of shoes, bacon and babies. Nice with the verbs. Founder of the top black parenting website, MyBrownBaby.