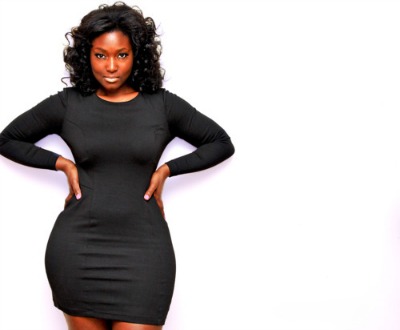 I spent a lifetime being ashamed of my bodacious butt and thick thighs, and a second lifetime being too afraid to flaunt it out of fear that showing off my curves would elicit the unwanted "Damn, you got a phat ass!" comments from random dudes that always seemed to follow me down streets, hallways and anywhere else I walked. Now, at age 44, I must say I'm really kind of amazed at how far popular culture has come from the days  when anything that couldn't fit into those stupid Gloria Vanderbilt and Jordache jeans was WAY too much. Curves now are not only a good thing—they're wanted. But, as noted in a brilliant blog post by FabulouslyFocused.com's Melanie Yvette, is this a good thing?
Are we really praising curves in today's African-American culture, or now demanding them? And if we are demanding them, are we only demanding and simultaneously praising a certain "type" of curvature amongst Black women? I'd say yes and yes, and it's doing nothing but once again, tearing down the self-esteem of Black girls all over.
I love the fresh perspective Melanie takes in this post—and it really gave me food for thought as I work to help my 13-year-old girlpie accept, embrace and rock her curves responsibly. Check out, "The Case of the 'Phat' Ass: Are We Really Praising Curves, or Demanding Them?" at FabulouslyFocused.com.
Other MyBrownBaby Fresh Links:
1. Let me just say this: Michael Arceneaux's blog post about this perfectly ridiculous/pathetic video, titled "Biracial Girl," made my life. You MUST read this. And watch the video. In a quiet space where no one can hear your guffaws. (The Cynical Ones)
2. Students Told to Create a Business Plan for Enslaving Africans. Sigh. (Clutch)
3. The Central Park Five: Still Fighting For Justice (Ebony.com)
4. Roderick Arrington, 7, Beaten To Death For Lying About Reading His Bible (Pray for this baby) (HuffingtonPost)
5. Black Women Continue To Lag Behind In Breast Cancer Care (Atlanta Black Star)
6. Government Sues Mompreneur Behind 'Nap Nanny' Because Parents Can't Bother Following Instructions
7. A New Model For Black Motherhood: Why We Need More Jada Pinkett Smiths (ForHarriet.com)
8. READ THIS: Slavery Is A Love Song, by the brilliant Ta'Nehisi Coates. Just do it. Now. And Bring Tissue. (Atlantic)
And no matter if you're totally rocking your reindeer ears while you sit back, sipping egg nog and singing Christmas carols under your overdecorated tree or you're still struggling to get you some quality holiday spirit, I know you're going to love these two videos. I mean, how can you not love DMX singing "Rudolph the Red-Nosed Reindeer?" Or Mariah Carey rocking out to "All I Want For Christmas" with an instrumental accompaniment from the Roots? On kid instruments? Yup—you're welcome! Have a great weekend!
Mom. NY Times bestselling author. Pop culture ninja. Unapologetic lover of shoes, bacon and babies. Nice with the verbs. Founder of the top black parenting website, MyBrownBaby.