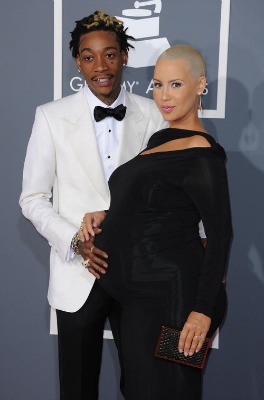 A hearty congratulations to Amber Rose and Wiz Khalifa, the proud parents of a new baby boy. Wiz announced the birth last night via Twitter: "Happy Birthday Sebastian "The Bash" Taylor Thomaz!!!" he tweeted. "Everyone welcome this perfect young man into the world." Of course, celebrities far and wide obliged the new papa, with congrats flowing in from Russell Simmons, Chevy Woods, Tamar Braxton and even Larry King. And it wouldn't be a celeb birth celebration without a hashtag and some Twitter trending: #TheBash became a hot topic just hours after he made his big debut. Sorry folks: no pictures and no word about whether Amber and Wiz stuck with their plans for an all-natural, drug-free water birth, with Wiz being the first to touch their newborn. But we're super glad to hear that their child is healthy and the couple is happy. Welcome to the MyBrownBaby family, Amber and Wiz!
And other MyBrownBaby Fresh Links:
Mother Who Got Pregnant After Botched Birth Control Sues For Cost Of Raising Her Child. (Kansas City Star)
STEM: The Next Great Education Divide—Are Our Children Being Left Behind Again? (Ebony)
Florida's School-to-Prison Pipeline Is Largest in the Nation (Colorlines)
Obama Goes After Black Fathers Again (the comments section on this piece is on fire!) (Clutch)
[THE WEEKLY READ] To the Harlem Shake Fakes… <– the hilarious Michael Arceneaux (Ebony)
Emmett Till's Family Pens Open Letter To Lil Wayne Over His FOUL Lyrics Referencing the Slain Civil Rights Icon (The Grio)
Young Futurists 2013: 25 Black Achievers Ages 16 to 22. (TheRoot)
Five Fun and Affordable Spring Breaks For Kids. (LearnVest)
Indiana Tries To One-Up Virginia, Threatens Transvaginal Ultrasounds Before – And After – Medical Abortions (Mommyish)
Mom. NY Times bestselling author. Pop culture ninja. Unapologetic lover of shoes, bacon and babies. Nice with the verbs. Founder of the top black parenting website, MyBrownBaby.