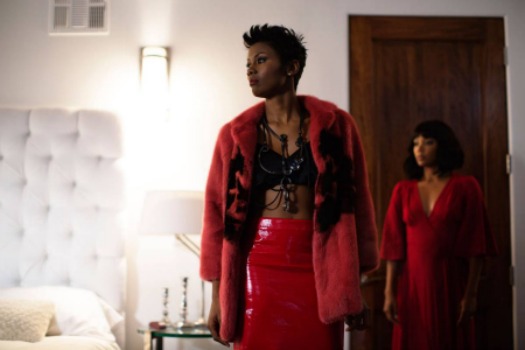 I make no claims to being a fashionista. I mean, I clean up nice and after years of fending off attacks against my black girl beauty, I'm comfortable enough with my style to get glam on my own terms. But I quit looking for myself on runways and in the pages of fashion magazines a long time ago. They're don't check for me. I don't check for them. Still, award-winning director Ava DuVernay has me rethinking my B-girl stance after teaming up with fashion house Miu Miu to present The Door, a breathtaking short film featuring Gabrielle Union, some badass clothes and the kind of storytelling that makes you fall in love with black women and remember why Ava is a star.
The Door is the fifth film in the Italian fashion brand's series of shorts, simply titled "The Women's Tales." Ava's nine-minute feature trains its lens, literally, on the door of the main character's home as her girlfriends show up to comfort her after a devastating breakup. "The door in the film represents a pathway to who we are," Ava explains—and we see this masterfully portrayed by some of our brightest stars: Adepero Oduye (Pariah) is the nurturing friend who encourages Union's character to eat, get air; Emayatzi Corinealdi (Middle Of Nowhere), dares her friend to have fun and dance her cares away; neo soul crooner Goapele reminds her friend through song that she is loved, and; Alfre Woodard offers up the kind of understanding, warmth and spine-straightening mettle only a black mother can deliver. Each delivers the elixir sister/friend/daughter needs to mend and move on.
Typical of Ava's style, the film is deliciously lush, emotionally charged and pitch-perfect in telling our story—in speaking directly to us. There's just something familiar in her work—something that shows our heart, tells our whole story, unapologetically. Beautifully. Truthfully. In this case, with barely any words. Which makes The Door totally the bomb dot com.
See, now Ava DuVernay's The Door is gonna mess around and make me like high fashion—at the very least, Prada's Miu Miu. (Did I mention how badass the clothes are? Especially hugged up on our curves? I got dibs on that swing jacket and off-white skirt Adepero pulls out of Gabrielle's closet for their quiet dinner—it's bananas and totally my flavor!) Shout out to the fashion designer for including black women in their advertorial mix and especially for being smart enough and brave enough to tap one of our finest filmmakers to show off their beautiful clothes—and our souls. Watch The Door below.
RELATED POSTS
1. Ava DuVernay's 'Middle Of Nowhere': Five Fire Reasons To See This Movie This Weekend (VIDEO)
2. The Attack Against Black Girl Beauty
3. Celebrating—and Finally Loving!—My Curves
4. And Now, the Part Where My Daughter Starts Hating Her Bootylicious Butt
Mom. NY Times bestselling author. Pop culture ninja. Unapologetic lover of shoes, bacon and babies. Nice with the verbs. Founder of the top black parenting website, MyBrownBaby.