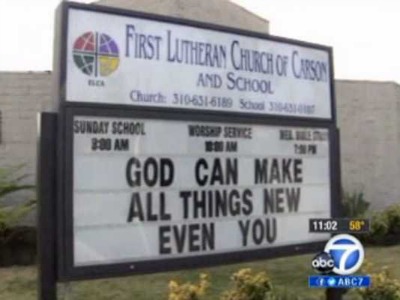 A church-run pre-school in Carson, California is shutting down after parents found out kindergarteners were allegedly giving each other oral sex, and now families of the abused children are stepping forward to file a class-action lawsuit against the school, church, principal, teacher and an alleged child perpetrator.
ABC News reports that at least two young boys say they received oral sex from a 5-year-old girl while attending classes at the First Lutheran Church of Carson School, where the children are students. The children were giving each other oral sex in a tunnel slide, on the playground, outside of a bathroom and at nap time, while teachers aides who were supposed to be watching the kids slept. One mother of a 5-year-old former student told KABC-TV that sexual encounters between 4- and 5-year-old students were an "everyday thing" at the school, and that she pulled her daughter out of the school in October after she was caught by a teacher performing oral sex in the bathroom on a 4-year-old boy.
"I said, 'Where did you see this? How did you know that this was something to do? 'She said, 'I saw another little girl do it.' I said, 'Well, where?' 'Here at school.' 'When?' 'During nap time,'" the mother said. "It's unfathomable on so many levels. For one, that it actually happened. For two, where it happened. For three, how often something happened." 
Another parent, Richard McCarthy, said he found out what was going on between the students after his 4-year-old son told him about "all the bad things" that a 5-year-old girl was doing to him. Now, the father added, he is afraid to switch his child to another school because he fears his son, who is having a hard time processing the act, will be a "predator" among other children.
Greg Owens, attorney of the victims, blamed the scandal on "a lack of supervision," and vowed to file a lawsuit in Los Angeles County Superior Court on behalf of at least four students and, perhaps, more a new students come forward. "Their lives will be ruined in many ways," Owen said of the students. "And we know there are many more."
The First Lutheran Church of Carson School was cited by the California Department of Social Services for "at least one sexual incident that involved young students." It also was charged with an "overall lack of supervision and an improper teacher-child ratio."
Meanwhile, the school insists that it is shutting down because the principal is quitting and no teacher is willing to replace her—not because little kids were having oral sex all up and through their school
And really, folks, that's all I have to say about this particular story. Because though I have 40 years on McCarthy's 4-year-old son, like him, I simply can not process how a bunch of preschoolers know enough about sexual relations to give each other oral sex. Or how it could come to be that everyone in the school but the adults knows that 4- and 5-year-old preschoolers are giving each other oral sex at nap time and out on the playground. I just can't with this today.
Mom. NY Times bestselling author. Pop culture ninja. Unapologetic lover of shoes, bacon and babies. Nice with the verbs. Founder of the top black parenting website, MyBrownBaby.