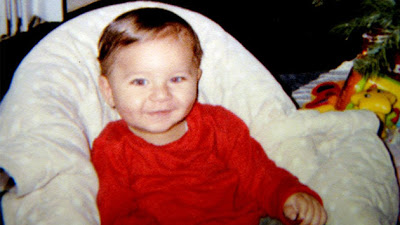 First, let me say this about the animal(s) responsible for the death of Antonio Santiago, the 13-month-old baby shot in his stroller last week during a street mugging in Brunswick, Georgia. My heart aches for that beautiful child. I am absolutely repulsed by charges that two teenagers shot little Antonio in the face after his mother, Sherry West, told them she had no money to give them. And I promise you this: I want the people who were so callous, so depraved, so inhuman, to shoot a baby between his eyes to get every… last… thing… they… have… coming… to… them. All of it and then some.
Brunswick, GA, police are certainly wasting no time in making sure somebody pays: within a day of the Thursday shooting, they rounded up two teenagers suspected in baby Antonio's shooting—17-year-old De'Marquis Elkins and an unidentified 15-year-old and, by yesterday, the two of them were in court, facing charges for allegedly shooting the mother in her ear and leg in broad daylight before turning the gun on the baby. Reports say police used school absentee records to narrow down the suspects, and then West identified Elkins out of a photo line-up presented to her by the cops.
West, who lost an 18-year-old son to violence when he was stabbed to death in a fight in New Jersey in 2008, wants blood. "I hate you and I don't forgive you," she told CNN when asked about the person who allegedly shot her son. "You killed an innocent human life. I hope you die for it."
Indeed, she has that right. I am no fan of the death penalty, but God knows as a mother of daughters whom I would lay down on train tracks for, I understand both her anguish and her thirst for justice. For blood.
Still, at the risk of sounding like a conspiracy theorist, I got questions. Like, how is it that West is the sole eyewitness to the shooting—in broad daylight in a residential neighborhood? I mean, plenty of people heard the shots, but no one saw Negroes fleeing down the bucolic streets? Where is the gun? Did the police run ballistics on the trajectory of the bullets that grazed West's ear and hit her leg to see if they weren't self-inflicted? Did they test West's hands for gunpowder residue? Anybody wondering why De'Marquis's aunt is absolutely insistent that her nephew and his friend were at her house having eggs and grits and, later, running errands when West and her child were attacked? Or why the shooter would kill the baby but leave West, an adult eyewitness who can testify against him, breathing? Is there any chance that West might have the wrong kids?
And did anyone perform an autopsy on baby Antonio to see if he suffered any other injuries besides the gun wound? Of if he actually died of a gunshot wound? Is anyone at all curious about why the baby was cremated the very next day after the incident occurred? Or why when reporters showed up to interview West on Saturday—just two days after her child allegedly died of gunshot wounds—she had all of her baby's clothes, toys and diapers in plastic bags, ready for donation? Of why she was so full of vivid details and so willing to talk about her son's death to so many reporters so quickly after her son was killed and cremated?
Have I been watching too many Law & Order episodes?
Maybe. But it's hard to give the benefit of the doubt to Ms. West's story when the kids she accused of killing her baby—both black boys—were facing judges on the 80th anniversary of the arrest of The Scottsboro Boys, nine African-American youths who were accused, charged and found guilty of raping two white women on a freight train in 1931. That case went down in the history books as a frame-up of epic proportions, replete with three rushed trials, an attempted lynching, angry mobs, sentences for nine of the 13 accused, one pardon and a legacy as the case that put an end to all-white juries in the South.
The case of Antonio Santiago also comes just a few months after the debut of The Central Park Five, a documentary about the railroading of five black teenage boys—Raymond Santana, Korey Wise, Yusef Salaam, Kevin Richardson and Antron McCray, then ages 14 to 16—in the infamous 1989 Central Park Jogger rape. The boys confessed under coercion and severe public pressure (at some point, Donald Trump took out four ads in local NYC newspapers calling for the boys to get the death penalty) and were convicted and served sentences ranging between five and 11 years—into their adult lives. But later, all five were exonerated and had their records wiped clean (after they'd already served their sentences) when convicted murderer and rapist Mathias Reyes confessed to the jogger's brutal rape.
Y'all do remember Susan Smith, right? And Bonnie Sweeten? And Bethanny Storro? All of them, along with women in the tragic Rosewood Riots and countless other cases have one thing in common: white women who blamed their crimes on black men.
George Zimmerman's wacky brother, Robert Zimmerman, Jr., isn't helping to allay doubts at all, either, with his racist tweets comparing a picture of Trayvon Martin sticking up his middle fingers with one of De'Marquis Elkins, an accused killer, striking the same pose, and asking whether "what these2 black teens did 2 a woman&baby is the reason ppl think blacks mightB risky."
*Side-effing-note: What kind of backward, punk ass, racist buffoon do you have to be to repeatedly insist that your brother is not a racist and did not racially profile, confront and murder an African-American child for no other reason than the color of his skin, only to take to Twitter to claim that people think all "blacks" are "risky" because some black people somewhere commit crimes? Isn't this the very definition of profiling? Newsflash: We "blacks" prefer to be judged on what we do individually, not on what people who happen to have our same skin color may have done. And, oh: black teens aren't the only fools who take pictures of themselves sticking up their middle fingers. I'm pretty sure that in the history of pictures of teens sticking up their middle fingers, you'll find a collection of—gasp!—white kids in similar poses. My guess is that 99.9 percent of them, while idiots, are probably not criminals. Get a clue, jerk. Or better yet, keep talking; I'm sure the prosecution and Benjamin Crump, the attorney for the Martin family, are taking copious notes on the mindset of the Zimmerman family. *End side-effing-note.*
Of course, my questions may be nothing more than fodder for the defense attorneys in the case of two teenagers accused of shooting a baby in his stroller, or the underpinning of a really bad Lifetime "ripped from the headlines" movie. Or perhaps these questions might be valid ones wrapped in historic precedence that has seen one too many miscarriages of justice meted out against black boys for no other reason than that a white woman pointed her finger and a black boy was at the end of it.
At any rate, I end this post with the same thoughts I used to open it: I want the people who we so callous, so depraved, so inhuman, to shoot a baby in his stroller to get every… last… thing… they… have… coming… to… them. All of it and then some. But God, please let them be the right people to be punished. Not just any ol' body.
Mom. NY Times bestselling author. Pop culture ninja. Unapologetic lover of shoes, bacon and babies. Nice with the verbs. Founder of the top black parenting website, MyBrownBaby.