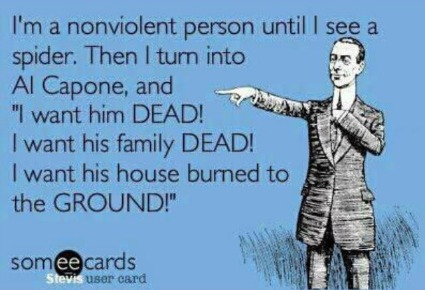 Okay—y'all know how I feel about bugs. I don't do bugs. Like, ever. Forreal, forreal? I'll burn down the house to keep from squishing one with a shoe or—ewa!—a tissue. And, despite their daddy's best efforts, I've successfully passed on the Bug Punk gene to my daughters. Which pretty much explains how we ended up damn-near careening off Highway 85 last night—the three of us squirming and screaming behind a Georgia stink bug that found its way into our car.
A recap: Lila spotted it first. It was all, "Blaaah! How you like me now?!" in the back window, right above her head. Legs all wiry and long—body all black with spots and stripes and as big as a penny and stuff, doing that slow, nasty crawl across the window.
Lila: AAAARGH!!!!!!! BUG!!!!!!!!! *attempts to dive into the front seat.*

Mari: AAAARGH!!!!!! WHERE?!!!!! *ducks head between her knees, airplane crash-style, and slams self against the back of the driver's seat.*

Me: AAAARGH!!!!!!! KILL IT!!!!!! *realizes can't dive through front windshield. Makes sign of the cross and says last rites for the entire family. *

Nick: *looking at all of us like we've lost our damn minds* Mari, just kill it, please.

Denene: *still screaming, reaches for the wad of napkins relieved from Dunkin Donuts, grabs at right stiletto shoe and begs Mari to slay the bug like it stole from her mama.*

Mari: *hoodie pulled all the way over her face, body smashed against driver's seat.* No! *peeks at the bug, which is now slinking across the window like it pays the car note*

Lila: *bursts into tears while laughing* KILL IT!

Me: *alternately disgusted, scared out of my mind and laughing * KILL IT!

Mari: NO!

Nick: Man up! Kill the bug!

Mari: NO!

Me, Mari and Lila: *two syllables off speaking in tongues * Pull the car over! Pull OVER! You gotta kill the bug!
Yes, this went on for a good five minutes, with the three of us ladies hollering and screaming and cowering and demanding Nick pull over on the highway and handle the monster bug, and Nick yelling and laughing and telling us to "man up" and refusing to stop, and the bug just enjoying the site of Atlanta whizzing past the back window, completely oblivious to the fact that we were negotiating its demise.
Finally, and, perhaps, realizing that her dad wasn't going to pull over and any second the bug was going to be crawling in her locs, Mari "manned up," grabbed Lila's shoe and squashed the critter—a move that I'm sure saved us all from an ugly death on 85. Because, yes, we were all ready to jump out. Period.
Mari is my hero.
Nick, meanwhile, is making plans to have the girls play with bugs this weekend. Because he thinks that his daughters' fear of bugs means he's failed as a daddy. Whatevs. Tonight, I will cook The Bug Slayer's favorite dinner. Because she saves lives.
RELATED POSTS
1. Bug Tales: Little Pest Critters & I Will NEVER Get Along—Ever.
2. Girls Are Made of Snakes and Snails and Puppy Dog Tails, Too!
3. Wordless Wednesday A Black Butterfly's Pretty Wings
Mom. NY Times bestselling author. Pop culture ninja. Unapologetic lover of shoes, bacon and babies. Nice with the verbs. Founder of the top black parenting website, MyBrownBaby.