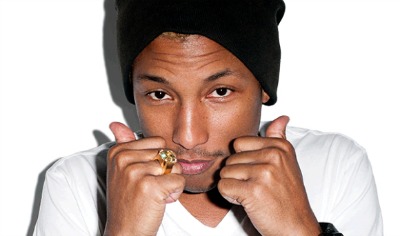 It's Friday! What better way to kick off the weekend than with an adorably sunny, delicious tune aptly titled, "Happy," from the king of happy, Skateboard P., a.k.a., Pharrell Williams? This track is a feature on the soundtrack of the upcoming animated sequel, Despicable Me 2, starring funnyman Steve Carell as a super villain who does a whole lot of bad while trying to be a good dad to three adopted daughters. We loved the first Despicable Me and we still listen to the soundtrack, which was produced, along with the movie's score, by Pharrell, so when we hear "Happy," we got just as geeked about the soundtrack sequel as we did the new movie.
Pharrell hooked us up and released this, the official song lyric video for "Happy." Good luck trying not to spend the rest of the day smiling and giggly after listening. Press play—and have a "Happy" weekend!
Mom. NY Times bestselling author. Pop culture ninja. Unapologetic lover of shoes, bacon and babies. Nice with the verbs. Founder of the top black parenting website, MyBrownBaby.