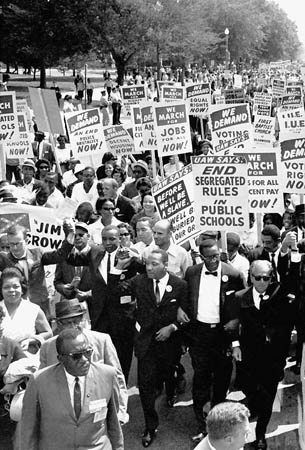 A few years ago, I had the distinct pleasure of researching Martin Luther King, Jr.'s "I Have A Dream" speech and his day leading up to the March On Washington. What I found was fascinating, like: Instead of sleeping the night before the march, Dr. King rewrote and tweaked his speech, which he'd given a test run at an earlier rally in Detroit; he gave the speech on an empty stomach, having gone almost an entire day without eating while he took meetings and prepared; they hyped crowd started the march from the Washington Monument to the Lincoln Monument without Martin and his co-leaders, forcing them to scramble to get in front of the massive crowd depicted in the iconic photo pictured, Martin loved his some Mahalia Jackson and specifically requested she sing before he gave his speech. She obliged him with the slow, sad, but defiant slave spiritual, I've Been 'Buked and I've Been Scorned.
Of course, we all know what happened when Dr. King took the mic; his famous speech spoke of the inequities blacks faced in a land that staked its claim on freedom, implored Americans to take note of the struggles of people of color, and outlined an incredible case for legislative change. Most of us have learned and probably know some measure of the historic speech, hailed as one of the most passionate, profound and revered speeches of the 20th Century.
Yesterday marked the 48th anniversary of Dr. King's speech the day, too, that the beautiful Martin Luther King, Jr. National Memorial celebrating his life and legacy was unveiled in the Mall on Washington. The impressive 30-ft-tall statue is the sole monument on the Mall dedicated to a non-president and black man.
To mark the occasion, I dug out a small, commemorative book I purchased last year at the Martin Luther King Center, the Atlanta-based national historic site where Dr. King and his wife, Coretta, are buried. In the book Quotations of Martin Luther King,
 I found some beautiful words drawn from the lips and mind of a beautiful man who lived his life and died wanting for only one thing: Liberty and justice for all.
I'm pleased to share some of my favorite MLK quotations here on MyBrownBaby. Share them with your babies as we celebrate the life, legacy and words of The Prince of Peace.
In the end, we will remember not the words of our enemies, but the silence of our friends.
All labor that uplifts humanity has dignity and importance and should be undertaken with painstaking excellence.
I submit that an individual who breaks a law that conscience tells him is unjust, and who willingly accepts the penalty of imprisonment in order to arouse the conscience of the community over its injustice, is in reality expressing the highest respect for the law.
It may be true that the law cannot make a man love me, but it can stop him from lynching me, and I think that's pretty important.
I have decided to stick with love. Hate is too great a burden to bear.
Change does not roll in on the wheels of inevitability, but comes through continuous struggle. And so we must straighten out backs and work for our freedom. A man can't ride you unless your back is bent.
Hatred paralyzes life; love releases it. Hatred confuses life; love harmonizes it. Hatred darkens life; love illuminates it.

Mom. NY Times bestselling author. Pop culture ninja. Unapologetic lover of shoes, bacon and babies. Nice with the verbs. Founder of the top black parenting website, MyBrownBaby.