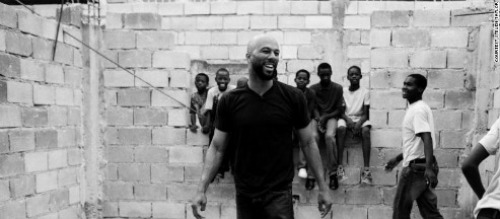 It's no secret that I stan hard for Common. I fell in love with him even more after I stumbled on Common Dreams: A CNN Freedom Project Documentary last night. In the hour-long special, the hip hop artist, actor and activist travels to Haiti to learn about Restaveks, the system in which some 300,000 impoverished children are sent by well-meaning parents to live with and work for well-to-do families in exchange for education, only to have their freedom and dreams stolen away by rich families who deny them schooling and force them to do back-breaking labor that bruises their bodies and kills their spirits.
I'd heard of restavek before, but never got an up close and personal view of the plight of these children like I did in the documentary. The beauty of the film is that Common was learning, too, and through his eyes, viewers were able to see the children, learn about the culture, understand the system and meet the people on the ground who are fighting for these babies in big ways. Indeed, while he was there, Common and Fabiola Desmont, a child advocate working with Restavek Freedom to end this wicked system in Haiti, were able to convince a family to let a little girl, about 9-years-old, go to school. The smile on that baby's face melted my heart; I was done when she asked if Fabiola could take her shopping for hair ribbons so that she could look pretty like the rest of the girls who go to school.
Shout out to Common for giving a damn—and CNN, too. The documentary is a part of The CNN Freedom Project, which the cable news station says is its "fight to end modern-day slavery and shine a spotlight on the horrors of modern-day slavery, amplify the voices of the victims, highlight success stories and help unravel the complicated tangle of criminal enterprises trading human life."  On The CNN Freedom Project site there are lots of facts and figures about human trafficking, including right here in the U.S., plus stories about victims and traffickers and specific ways we can all chip in to help put an end to the madness. An eye-opening statistic that should give us all pause: 70 percent of modern-day slaves are female; half of them are children.
I was talking about this on my FaceBook page last night while I was watching, and someone criticized the documentary and Common as simply "putting a handsome face behind an old problem" that "does not solve anything." She added: "Haiti's problems are beyond any CNN mini-doc coverage."
Sure, it's easy for us to think that one person, one documentary, one rapper guy doesn't matter. But I promise you, they do. How many folks channel surfing, completely unaware of the plight of Haiti's restavek, stopped and paid attention because they saw Common's pretty face? *insert image of Denene waving a hand here* How many told their friends via Twitter and FaceBook to tune in? *insert image of Denene waving a hand here* How many people were touched enough to Google, research, and find a way to help in some kind of way? I can tell you this much: One post on my personal FaceBook page spread the word among more than 3,000 of my FB friends and in my thread, there were at least six journalists/editors, not including me, who can write about restavek in some of the most well-read and respected magazines, newspapers and blogs in black America. If even one child was helped last night by putting Common's handsome face on that old problem, then I'd consider it a job well done. I know the children who have been and will be helped by his heart would say the same.
I urge you to check out The Freedom Project blog (a few stories about Common Dreams are there) and follow The CNN Freedom Project on Facebook or on Twitter at @CNNFreedom.
Common also set up a website, CommonDreamsHaiti.com, on which he's raising money to help end the practice of Restavek; this year, I'm going to have my daughters make their annual Christmas donation to this worthy cause. Won't you consider helping? Like every pretty face, every penny can make a difference.
And, total shameless plug for my man… er, Common: His new book One Day It'll All Make Sense
 is in stores (it's a beautifully written memoir—I loved every word!), his album, The Dreamer, The Believer hits store shelves on December 20th, he stars in the new AMC series, Hell On Wheels, and he'll be on an upcoming cover of Jet! magazine—a feature I penned (which, I guess, makes this a shameless plug for me, too). Support the entertainer who supports us.
Watch Common Dreams: A Freedom Project Documentary in its entirety here.
Mom. NY Times bestselling author. Pop culture ninja. Unapologetic lover of shoes, bacon and babies. Nice with the verbs. Founder of the top black parenting website, MyBrownBaby.