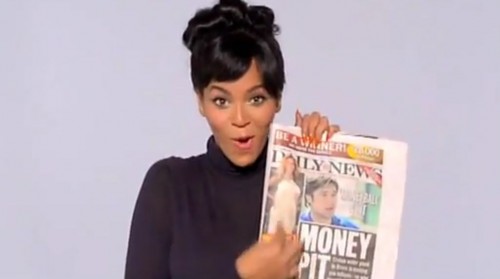 While stupid gossip blogs continue their (really weird) conspiracy theories about Beyonce faking her pregnancy, the proud mommy-to-be showed off her baby bump and her sense of humor in an adorable "Oh, Baby!" video making the rounds across the innanets. In the video, Beyonce, who was six months pregnant when she filmed it in September, pokes fun at the continued fascination with her impending mommyhood, particularly as it manifests itself on the covers of saucy tabloids.
Beyonce shot this video clip while shooting her music video for "Countdown." Beyonce explained why in some scenes her baby bump was hidden while from the side it was obvious: "I'm six months pregnant pretending that my stomach looks flat in body suits. Thank God you can't really tell from the front, but when I turn to the side… OH BABY!"
Check out a second behind-the-scenes video of Beyonce talking about her husband, Jay-Z, and her getaway plans to lay out on the beach and eat whatever she wants (ah—every mommy-to-be's fantasy!) on PopularCritic.com.
RELATED POSTS:
Mom. NY Times bestselling author. Pop culture ninja. Unapologetic lover of shoes, bacon and babies. Nice with the verbs. Founder of the top black parenting website, MyBrownBaby.