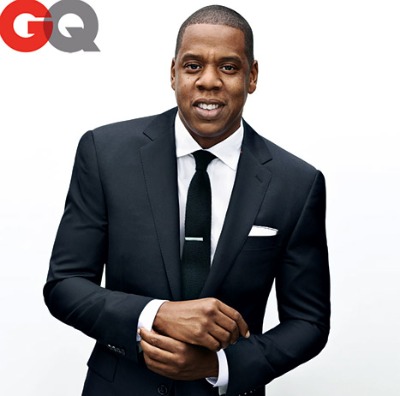 While practically anyone with access to a computer and wi-fi is writing titillating stories about every… single… morsel… of information about Beyonce's pregnancy—She's craving waffles! It's a girl! Auntie Kelly bought her yet-to-be-born niece a $5,000 hot pink crystal bath tub!—GQ, one of my favorite go-to magazines for in-depth profiles with substance and style, struck journalistic gold with an in-depth, thoughtful interview with daddy-to-be Shawn "Jay-Z" Carter. In it, the writer borrows lyrics from Jay-Z's "New Day," a song off his and Kanye West's Watch the Throne album, to kick off a discussion about the rapper's absentee father and how he plans to be a better dad to his baby. He raps:
Promise to never leave him, even if his mama tweakin'
'Cause my dad left me and I promise to never repeat him
Never repeat him
Never repeat him.
In the GQ story, Jay-Z acknowledges that now that he's going to be a father, he's thinking a lot about his own father, Adnis Reeves—how his connection with his "superhero" was "ripped away" after Adnis, devastated by the death of his brother, became an alcoholic and substance abuser and left the family. A month after father and son began to reconcile in 2003, Adnis died. The GQ piece, the cover story of the magazine's Men Of the Year 2011 issue, continues:
All that was part of why Jay wanted to wait to have kids. That promise, in "New Day," that fear of repeating his father's mistakes—it's real. He knows, intellectually, that he's not just going to spaz out and leave. "But I bet he didn't believe he'd spaz out and leave either," Jay shrugs.

He was rich enough to provide, years ago. But he wanted to be rich enough to be present—to leave rap alone for a while, if necessary, and not in a trumped-up pseudoretirement kind of way.

"Providing—that's not love," he says. "Being there—that's more important. I mean, we see that. We see that with all these rich socialites. They're crying out for attention; they're hurting for love. I'm not being judgmental—I'm just making an observation. They're crying out for the love that maybe they didn't get at home, and they got everything. All the material things that they need and want. So we know that's not the key."
I know that there was quite a brouhaha over the massive attempt by conservative, married black folk to use Beyonce and Jay-Z's pregnancy announcement as a referendum on black marriages and single black motherhood, and I promise you, I'm not using this post to enter that fray. If you're a regular MyBrownBaby reader and you know my heart, you also know I'm happy for any black woman who becomes a mom, and if she chooses to do so without marrying the man who helped her create that baby, her business, her right.
But there's another side to this story—one in which a black man who grew up without a father in his life made the deliberate decision to plan his parenthood. To wait to become a father until he was confident he could be the kind of dad he needs to be—wants to be— to his child. This is such a radical departure from the average excuse that always seems to be tossed out when black fathers who are the unfortunate victims of absentee fatherism are running from their own responsibilities as dads. You know the one—"My father wasn't around and I don't know how to be a dad, so…"
Jay-Z provides yet another blueprint: If you don't know how to be a dad, figure it out before you bring another life into this world, so that you can be ready for the awesome task of raising another human being.
Yet another reason why I love me some Jay-Z.
Check out the GQ interview in its entirety, here—it's well worth the read.
RELATED POSTS:
1. Dear Daddy: New Documentary Tells the Story of Fatherlessness Among Daughters
2. Congratulations Beyonce & Jay-Z: Welcome To the MyBrownBaby Crew!
3.  A Second Chance: Should Kelly Rowland Let Her Absentee Dad Back In Her Life?
4. Motherhood Denied: The Dark Legacy of North Carolina's Eugenics Law, Through the Eyes Of A Black Mom
Mom. NY Times bestselling author. Pop culture ninja. Unapologetic lover of shoes, bacon and babies. Nice with the verbs. Founder of the top black parenting website, MyBrownBaby.