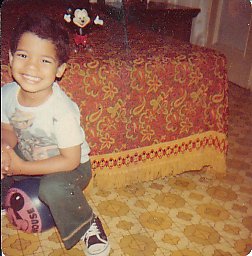 Editor's Note: Moved by last week's post about Jay-Z's decision to delay becoming a father until he was ready to deal with his father's absenteeism, my longtime friend, artist Rod Perez, shared this piece he wrote to his own absentee father, with whom he's since re-connected. I'm honored to share it here on MyBrownBaby.
By ROD PEREZ
Dad, I've grown up to be a good man. I want you to see that. I want you to see that the boy you left behind is fine. The boy you've made "ice cream promises" to is fine.
I was hip to your game, you know—how you would show up just enough times to squelch your guilt. I've known for a long time now, Dad. You claimed to have missed me, but all I know is that you missed my birthdays. The creative mind of innocence made excuses for why you never came when you said you would. I actually believed them, too. The hearts of children. Belief is pure. But soon enough, it finds out the truth.
You built me up dad—built me to understand what hurt really is. There were not enough tears to put out the painful, searing fire in my chest. Every pounding beat in my heart reminded me that you weren't coming. Soon, the heart grows tired of the games and begins to harden. Your charming calls were answered with short responses and even shorter tolerance: "You're not a good or a bad father; you're just not around."
What I wanted was the father who dreamed of seeing his baby boy grow up to be a famous baseball player. I wanted to kiss my dad and feel the stubble of his beard against my face and not wish it to be my last. I wanted a father I could share a couple of beers with when I became of age.
Does it frighten you to see that your own reflection is a stranger?
You wish for grandsons, I delay. For fear of mistakes I might have inherited from you. For fear that I might understand why you did it. I can't be like you, Dad. I am my own father. I have my own philosophies, my own advice to give, my own battles to conquer.
And when you get your wish for a grandchild, I hope that my path has not been laid and trod on by you. I want to be better. Do better. Love better.
Say that you love your boy, without being told to do so. Be proud of me when you see fulfillment in my face. Be a man—as I am today. And recognize that this man still needs his dad.
Rod Perez lives in Chicago with his wife and daughters.
Mom. NY Times bestselling author. Pop culture ninja. Unapologetic lover of shoes, bacon and babies. Nice with the verbs. Founder of the top black parenting website, MyBrownBaby.