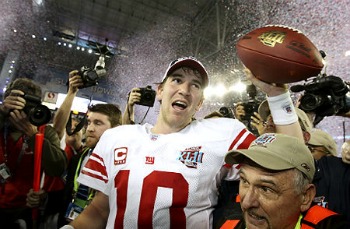 By NICK CHILES
There are many responsibilities that a father has to his children, but the Super Bowl win last night of my New York Giants reminded me of one of dad's primary duties: we bequeath to our children our favorite sports teams.
This is especially important when you move away from your hometown and find yourself in another part of the country, rooting for a team that is widely viewed by the locals as the enemy.
My wife Denene and I are New Yorkers to our core, both born in New York, raised in the New York metro area, former New York City newspaper reporters, the New Yorkese flowing from our mouths with every "Hey, howya doin'?"
(On the night we got married, we actually stayed at the World Trade Center Marriott Hotel before we took off for our European honeymoon. Just recently I was flipping through wedding pictures that showed my lovely wife piling into the limo on her way to our wedding with the Trade Center towers looming in the background. New Yorkers to the bone.)
But now we live in Georgia, outside of Atlanta. We have taken up a rooting interest in the Falcons—an interest initially spurred by Michael Vick—and I even have season tickets to the Georgia Dome. But if you pull back my skin's outer layer, you will find Giants blue underneath.
This is all to say that as we stood up in the middle of the Super Bowl party we attended last night and at the end of the game broke out into a rousing rendition of Sinatra's "New York, New York" while the party hosts and their buddies—most of them relocated New Orleans residents and diehard Saints fans—gazed at us with a mixture of contempt and bemusement, I looked around anxiously for my daughters so that they could join in the spontaneous celebration. My girls have lived in Georgia for the majority of their lives, but when they are deciding who to root for, they will look no further than Dad to get their cue. If Dad says we are Giants fans, then that's who shall win the game.
This works especially well with daughters. They are content to follow Dad's lead and do the right thing. But sometimes things can go awry with sons. Before he moved to Georgia to live with us, my boy, now 19, spent a decade of his life living in Washington, D.C., with his mom, my first wife. Though the boy was born in New York City, he succumbed to the D.C. air and developed a passion for the Washington Redskins. Now if you understand anything about football, you know that a Giants fan has as much love for a Redskins fan as a hyena does for a bunny rabbit. In other words, we eat them for breakfast. The only reason I let the boy sleep in the house is because I have much love for him. And I must admit, there's nothing more enjoyable for a Giants fan than to have a Redskins fan nearby at all times, a convenient object for ridicule.
He's now away in college, but thanks to the magic of text message, he's never too far away to torture.
So what did this Redskins fan have to say for himself last night after yet another Giants Super Bowl triumph over the detestable Patriots?
"…man, y'all suck."
Clearly, Redskins fans, in addition to poor decision-making skills, have very limited vocabularies.
RELATED POSTS:
1. The Boy Is Going to College
2. Daddy's Little Jocks
3. [New on the Parenting Post] What Tough Girls Are Made Of
4. Burning Qur'ans, Zealots, and a Lesson on Tolerance: The Best Way to Honor the Victims of Sept. 11th
Mom. NY Times bestselling author. Pop culture ninja. Unapologetic lover of shoes, bacon and babies. Nice with the verbs. Founder of the top black parenting website, MyBrownBaby.