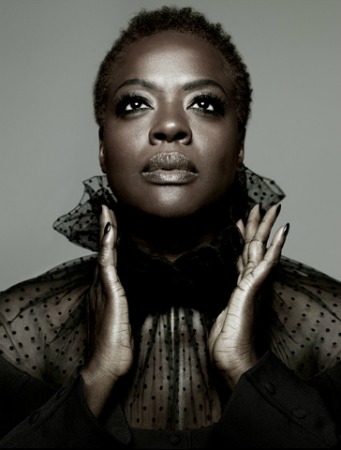 Yes—that's Academy Award nominee Viola Davis, star of the monster hit film, The Help, in all her stunning beauty on the cover of the Los Angeles Times magazine—k.i.l.l.i.n.g. it in a high fashion photo spread in which she rocks Jason Wu, Guiseppe Zanotti, Thierry Mugler and, good God, short natural red-tinted hair against that lusciously chocolate face of hers. I mean, can she get any more fly?
The Los Angeles Times piece hails Viola as "one of the most electrifying actresses of her generation," for her unforgettable work with Hollywood heavyweights like Meryl Streep, George Clooney, Denzel Washington and Julia Roberts, and certainly for her star turn as Abileen Clark, the maid who quietly and defiantly raised her voice to tell the stories of "the help" in murderous Mississippi at the dawn of the Civil Rights movement.
The story is a beautiful read, indeed, but Viola inspired me beyond words last month when I watched her receive the Outstanding Actor Of the Year Award at the Santa Barbara Film Festival. There, she did an hour-long, Actor's Studio-styled interview in which she said her skin color and outside-the-mainstream beauty has made her ascent on the big screen anything but smooth; roles for women of color are sparse and tend to be underdeveloped—vehicles meant mostly "to facilitate the emotional journey of the lead character, which is often Caucasian." Such sparse roles could make even the best black actress "atrophy" Viola noted, but if you're a master at your craft, you can "make filet mignon out of fried chicken."
And isn't that just the story of us? In all that we do—from mothering to making our relationships work to excelling on our jobs to keeping our homes, this has long been the struggle of black women. Making filet mignon out of fried chicken—something out of nothing. Viola Davis is the truth for that. And I'm grateful that I was able to shake her hand, look her in those big beautiful eyes, and thank her for the inspiration. Artist to artist, black woman to black woman, mother to mother, she spoke to me that night. I hope Viola's made space for that Oscar she's got coming—on her mantle right next to her Screen Actor's Guild Award for Best Actress. She deserves the win, and everybody needs to hear her speak the truth about black actresses and film and be inspired.
RELATED POSTS:
1. I Was "The Help" And My Experience Taught Me To Dream BIG
2. Check Out the New Trailer For "The Help," Featuring Viola Davis
3. Viola Davis & Sandra Bullock's Kids Sitting In a Tree…
4. Shameless Self-Promotion: Check Out My Profile of Angela Bassett in Essence
Mom. NY Times bestselling author. Pop culture ninja. Unapologetic lover of shoes, bacon and babies. Nice with the verbs. Founder of the top black parenting website, MyBrownBaby.