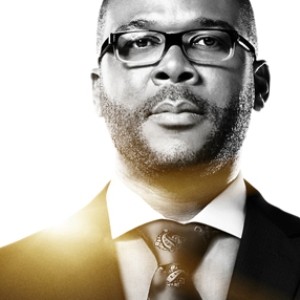 Grab your popcorn, grab your drinks: Filmmaker Tyler Perry will be chatting live today with his fans via Yahoo and Facebook, answering questions about his upcoming film, Good Deeds—and MyBrownBaby is bringing you in on the action by making the chat available right here on our site. The Good Deeds trailer below will magically turn into the live chat at 1 p.m. EST /10 a.m. PST showing Perry talking about his new flick and interacting with his legions of fans.
And that's not all: on Tuesday—Valentine's Day—you can come right back here to MyBrownBaby at 9 p.m. EST/ 6 p.m. PST and watch the official livestream of the red carpet premiere of Good Deeds, starring Perry, Thandie Newton, Gabrielle Union,  Brian White and Phylicia Rashad. Yup—right here on MyBrownBaby, on this post, in the video player below.
About Good Deeds: A successful, wealthy businessman, Wesley Deeds (Tyler Perry) has always done what's expected of him, whether it's assuming the helm of his father's company, tolerating his brother's misbehavior at the office or planning to marry his beautiful but restless fiancée, Natalie (Gabrielle Union). But Wesley is jolted out of his predictable routine when he meets Lindsey (Thandie Newton), a down-on-her-luck single mother who works on the cleaning crew in his office building. When he offers to help her get back on her feet, the chance encounter with someone so far outside his usual circle ignites something in Wesley. This one good deed may finally spark his courage to exchange the life that's expected of him for the life he's always really wanted. A moving, uplifting drama about coincidence, courage, and the defining choices we make on our paths to happiness, TYLER PERRY'S GOOD DEEDS is written, produced and directed by Tyler Perry, and stars Perry, Thandie Newton, Brian White, Rebecca Romijn, Jamie Kennedy, Eddie Cibrian, Jordenn Thompson, Beverly Johnson, with Phylicia Rashad, and Gabrielle Union.
In keeping with the theme of his film, Tyler Perry also is encouraging folk to support Good Deeds: Great Needs, an initiative he created to provide support for Covenant House, a non-profit organization that provides hearty meals, warm beds and safe shelter to homeless youth. Perry partnered with Gift Card Giver, an Atlanta-based organization that collects unused gift cards and distributes remaining balances to non-profit organizations, to donate all gift cards collected through Good Deeds: Great Needs to Covenant House. Also, in support of the initiative, Perry's film distributor, Lionsgate, has agreed to make a financial donation in support of Covenant House each time the Good Deeds: Great Needs video is shared through www.gooddeedsgreatneeds.com. Click the link, hit "share" and help a kid who could really use your good deed.
Tyler Perry's Good Deeds hits theaters on February 24, 2012. Keep up with Tyler and news about his film on the Good Deeds Facebook Page or at his website, TylerPerry.com.
Mom. NY Times bestselling author. Pop culture ninja. Unapologetic lover of shoes, bacon and babies. Nice with the verbs. Founder of the top black parenting website, MyBrownBaby.