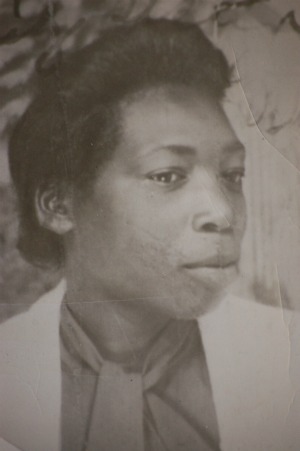 Welcome to the First Edition of the Black Birth Carnival, hosted by Darcel of The Mahogany Way Birth Cafe and Nicole of Musings From The Mind of Sista Midwife. Our first topic is Birthing While Black: A Historical Perspective. At the end of this post you will find a list of links to the other participants. Some of these posts may contain Emotional Triggers and will be labeled at the beginning of the post.
****
By DENENE MILLNER
I never had the honor of meeting my grandmother, my daddy's mama. She died sometime in 1945, in bed in her house in Virginia, just a few days, I'm told, after she gave birth to the last of her seven babies—in the same bed where she birthed them all. No one knows for sure what caused her death. She did have asthma, and so there is a theory that she suffered a horrific attack that stole her air. But snatches of stories gleaned over time reveal that she could have died from complications associated with childbirth.
My father was 10. He was there when his mother gave birth and there, too, when his mother took her last breath. She spoke to her boy, asked him to fetch her something, and when he returned, she was gone. Writing that part does not come easy to me. I am the mother of two girls—one who is almost 10—and I couldn't imagine giving birth and then giving up the ghost while my children watched. The thought of the terror in my dad's heart—in his eyes… my God, these things hurt me so.
I am convinced of two things: my grandmother did not have to die, and chances are that my grandmother's story is not unique. She was a poor black woman in the South in the '40s, which meant that a cocktail of Jim Crow laws, inadequate medical services for the poor and a lack of trained physicians willing to care for African Americans was just as lethal for my her as whatever took her away from her family—a cocktail that most likely contributed to the infant and maternal mortality rates in her rural state.
It is this that I'm reminded of when I consider the history of "birthing while black" in our country. I know that we want to paint rosy pictures of wise grandmothers catching babies with their strong, beautiful, wrinkled hands while a room full of sisters and aunties and sisterfriends wipe the birth mom's brow and tell her everything is going to be alright. In my mind's eye, I see black fathers pacing outside in the dark—excited, worried, waiting for news. I see big pot-bellied cauldrons full to the top with water boiling and spitting on top of wood burning stoves—fresh white linens waiting to swaddle new life. I hear the babies cry—sweet, piercing. I imagine them rooting for breast and clutching pointer fingers and nuzzled under chins. Happy. Content. Ready to conquer.
But then I remember. I remember my grandmother. I remember Henrietta Lacks, the African American woman who, having died from cervical cancer and hellish, ineffectual gynecological care at the hands of a doctor who didn't seem to give a damn, had her ovarian cells stolen and used for science, without her knowledge or permission. And I remember countless other nameless, faceless but important black women who toiled and got pregnant and toiled and gave birth and toiled and raised babies without benefit of health and reproductive justice.
Today, black women are no longer in the backwoods, making a way out of no way, depending solely on those wise old wrinkled hands to usher in new life and complications to take away their air. There are hospitals and doctors who will see us now, and medicines and interventions that help to save our babies and our mothers, and trained midwives and doulas standing at the ready to help us—I mean really help us—in ways that the traditional medical establishment won't, even to this day.
I do wish my grandmother had benefit of these things. And I thank God that I did.
****
Please take time to read the other submissions for the Black Birth Carnival. These are very touching, thought-provoking posts
****
Nicole – Musings From The Mind of Sista Midwife: Our History Does Not Have To Be Our Future
Darcel – The Mahogany Way Birth Cafe: What Happened To Our Strength?
Takiema – Connect Formation Consulting: Black & Still Birthing – A Deeply Personal Post
Teresha – Marlie and Me: My Childbirth Influences and Experiences: From my Foremothers to Erykah Badu
Denene – My Brown Baby: Birthing While Black In The Jim Crow South Stole My Grandmother: Thankfully, Things Change
Olivia – The Student Midwife: Birthing While Black: A Historical Perspective of Black Midwives
Chante – My Natural Motherhood Journey: Homebirth Stories
Mom. NY Times bestselling author. Pop culture ninja. Unapologetic lover of shoes, bacon and babies. Nice with the verbs. Founder of the top black parenting website, MyBrownBaby.