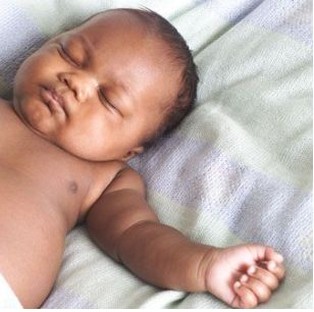 There are a ton of things I'll never forget about the first time I gave birth—showing up with a Donny Hathaway CD in one hand, a beautiful pink and white-striped "going home" dress and a white blanket handpicked special for my Mari in the other; being scared to death of the epidural needle but grateful that it smoothed me out almost immediately; waiting for what seemed like an eternity to see my baby's beautiful face; how I seriously believe I saw a white light over my OB-GYN's head when she entered the room to help me deliver the love of my life. Mari's baby soft skin against my breast—her breath as sweet as Heaven. I imagine Beyonce, who gave birth just a few weeks ago to Blue Ivy Carter, her baby with husband Jay-Z, will have these memories, too, when the R&B superstar thinks back to the day she had her most incredible performance yet: giving birth.
But that is probably where our memories of that special day part. What I most remember? That the hospital and workers where I had my first daughter sullied what should have been one of the most amazing days of my life.
I gave birth at a hospital in upper Manhattan—a renowned teaching hospital that, because of where it's situated, caters to a poor, uninsured community, but, because of its leading specialists, modern facilities and state-of-the-art technology, also is frequented by well-to-do patients who consider it one of the best hospitals in New York. They made it very clear in the brochures and birthing plans that a regular ol' birth there was neither more nor less than what a pregnant women could get elsewhere, but if you were willing to fork over an additional $800 or so, you could get the Cadillac birthing experience: a private room, extra personal time with your significant other, a special waiting room for family members replete with free refreshments, and a complimentary congratulatory meal—two steak and lobster (!) dinners and champagne for two—for the new parents. I promise you this: the words were so pretty I was convinced I was about to give birth in a posh hotel.
I did not.
Despite an incredible birthing experience facilitated by my personal angel/ob-gyn, from almost the moment my baby took her first breath, her mother was treated like a 14-year-old drug-addicted welfare queen, there to push out yet another daddy-less baby. Seriously.
They tested my newborn for drugs (though I've never taken an illicit substance in my entire life) without my consent—something I later found out hospitals do at disproportionately higher rates with black babies than white ones.
Despite that I paid for the private room and meals, I was immediately put in a massive post-birth room with three other women and their newborns. I was moved only after I asked why I wasn't in a private room—a question that elicited scowls and foot-dragging from the nurse until she bothered to check my paperwork to see that, indeed, I'd paid for a private room. It took three hours for my room to be changed.
Once in the private room, the nurses disappeared for nine hours! Seriously. Nine. I had no diapers. No idea how to breastfeed properly (and no bottle or milk to feed my baby if I chose to formula feed). No instructions on what to do to care for my post-birth body (was it okay to walk? Pee? Wash?). Nothing. I seriously thought I was being punished for asking (nicely) for what I'd paid for. When a nurse finally did show up, she came with a "gift bag" full of Similac and coupons for… Similac.
The private "suite" was disgusting. The bathroom smelled like cheap, potent cleaning chemicals. The shower tiles were grimy and the shower curtain was full of mold. There wasn't so much as a picture on the bland walls. (I begged my back-up ob-gyn to let me go home after one night; thank God, she signed off on it.)
The nursing staff was genuinely surprised (!) that the guy by my side, Nick, was my husband—and actually said that stupid ish out loud.
Our special meal arrived only after we pointed out to the nurses that the fees we paid included it, and by the time it got to us, our dinner was cold and our champagne (a tiny hand-held bottle we could have finished with one big sip from the straw) was warm.
I couldn't get out of that place fast enough. And when it came time for me to have my second child, I stayed far, far away from that hospital—even changed my ob-gyn, which really broke my heart to do—to avoid it like the damn plague.
I wondered then what I know to be true now: It didn't matter how much money I had in my bank account or how good my insurance was, or that I had a ring on my finger, or that I was smart and accomplished, or that I tried to pay my way out of substandard service. At the end of the day, to almost everyone in that hospital, I was just another black girl pushing out another black baby and neither of us deserved to be treated with dignity or respect, much less special. That human beings charged with caring for new life and the people who ushered in that miracle could traffic in this kind of reprehensible treatment of anyone, much less a new mother—no matter her race, financial or marital status, or background—is beyond my level of comprehension.
But it happens. A lot. And there are studies that show that my birthing experience is a lot like that of other African American women who've had babies in hospitals.
I bring up these things because earlier this week, the New York Times ran its story, "Chefs, Butlers, Marble Baths: Hospitals Vie for the Affluent," about how hospitals are creating special wings and services to attract and cater to the wealthy. The story, no doubt dreamed up in an editor's meeting after the whole debacle created after folk got wind of the opulent birthing suite and special treatment Beyonce got when she gave birth to Blue Ivy Carter at  Lenox Hill Hospital, kind of makes it seem like this is some kind of new phenomenon. I know better, though: VIP treatment for folk willing to pay for it is not new. Neither is disrespecting and giving sub-par care to people those in charge or extending care think are not worthy of VIP treatment.
And if you look like I did when I gave birth to my baby girl—like an African American woman giving birth to a black baby—you are decidedly not VIP. Unless, of course, you are Beyonce. Then maybe you and your baby have a chance. This is, perhaps, the saddest of all.
RELATED POSTS
Mom. NY Times bestselling author. Pop culture ninja. Unapologetic lover of shoes, bacon and babies. Nice with the verbs. Founder of the top black parenting website, MyBrownBaby.