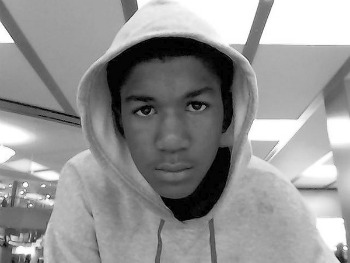 By NICK CHILES
An African-American family in Florida is still trying to figure out why their 17-year-old son was shot dead by the Neighborhood Watch captain in their gated subdivision last month, after he walked to a local convenience store for a pack of Skittles for his little brother. For some outrageous reason the Neighborhood Watch captain, who called 911 to report a "suspicious" person in the neighborhood and then blasted a hole in the boy's chest before the police could respond, still has not been arrested.
These kinds of stories cut me deeply because I see my own life, my own son, my own circumstances, all up in the details. This is the fear that every parent of a black boy lives with—a fear that grows every year as they age and begin to leave your house without you alongside them. We have to let them go at some point, but it's so damn hard. And stories like this only make it harder.
Seventeen-year-old Trayvon Martin (the angelic-faced boy in the picture above) lived in Miami with his mother, but he was visiting his father and stepmother in their gated subdivision in Sanford, a town about 20 miles north of Orlando. He was watching the NBA All-Star game when his 13-year-old brother asked Trayvon if he could get him a pack of Skittles at the store. That was the last time his family saw him alive.
When you mix an infatuation with guns in many of these Southern communities with an inflated (and usually false) sense of alarm about some lurking (and usually brown) criminal menace, this is the result you get. Seventeen-year-olds shot dead with a pack of Skittles in their pocket. The thought of that family rushing out to find Trayvon lying on a cold sidewalk in a pool of blood brings tears to my eyes—and a vague sense of terror to my heart.
My 19-year-old son is regularly harassed by the local cops when he comes home from college. He gets pulled over at least once a week so that they can "talk" to him. He never gets a ticket. One cop even told him that he doesn't "belong" in our neighborhood and that he shouldn't come back. Mind you, this was less than a mile from our house—in a neighborhood with a significant black population. WTF? And on more than one occasion, we've gotten emails from neighbors concerned about a criminal presence. A few years back, some idiotic teenagers stole video games from someone's house. That was the extent of the local crime spree. But it's not hard at all for me to imagine an overzealous local cop or overeager, gun-toting neighbor believing that they were solving our "crime" problem by pulling a piece on my boy, who would undoubtedly either be on his way to or from his girlfriend's house or the gym—since it seems those are the only two places he goes when he's home from school.
These are the thoughts that drive black parents crazy—and that sometimes make me think that it might be safer for him to just stay on campus 24/7.
Wait, I forgot—they shoot black boys on campus too, as I wrote about here two years ago when a Pace University football player was killed by police on the school's Westchester County, New York, campus.
Am I allowed to lock him in the basement until he hits 40, when he might be out of danger?
RELATED POSTS:
1. Teenage Car Traumas: A Dad Loses Control
2. Another Black Boy, Another Senseless Murder—When Will It Stop?
3. Black Boy Swagger, Black Mom Fear
4. Evil Black Men

Mom. NY Times bestselling author. Pop culture ninja. Unapologetic lover of shoes, bacon and babies. Nice with the verbs. Founder of the top black parenting website, MyBrownBaby.