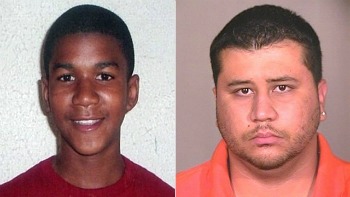 By NICK CHILES
UPDATE: Today, as we learn from Trayvon Martin's girlfriend that the teen ran from Neighborhood Watch captain George Zimmerman as he stalked him through the neighborhood, only to be cornered and pushed by the gun-toting vigilante, 911 recordings reveal that Zimmerman whispered the words "f*cking coons" shortly before he disobeyed 911 dispatch orders and chased the teen. Details are at the end of this post.
In a surprising twist in the case of 17-year-old Trayvon Martin, the teen's girlfriend has come forward to reveal that Trayvon actually tried to elude his killer, George Zimmerman, because he didn't understand why the strange man was following him. The revelations, reported on ABC News, shed light on Trayvon's final moments and allow us to see the whole encounter from his perspective—he's walking alone in a subdivision where he doesn't live and suddenly he's being followed and then cornered by a grown man he doesn't know.
The FBI and U.S. Justice Department's Civil Rights Division have opened an investigation as the national outrage grows over the fact that Zimmerman still hasn't been arrested in Trayvon's death. Students from Florida A & M and other colleges held a rally yesterday in front of the Seminole County State Attorney's Office, while a protest being planned for Thursday in Sanford, Florida, led by Al Sharpton and radio personality Michael Baisden, is expected to draw big crowds. In addition, in a clever civic action, people are being asked to send packages of Skittles along with letters calling for the arrest and prosecution of Zimmerman, to the Sanford police department—Trayvon was on his way back from the store, where he had gone to buy Skittles for his little brother, when he was killed by Zimmerman, the Neighborhood Watch captain.
Here's the address to the Sanford Police Department:
Chief of Police
Sanford Police Department
815 West 13th Street
Sanford, FL 32771
 The revelations from Trayvon's 16-year-old girlfriend, who was on the phone with him all the way up until the confrontation with Zimmerman, for the first time provide some insight into the teenager's mindset in the moments leading up to his death. When he told his girlfriend that a strange man was following him, she told him to run. At first he didn't want to run, but eventually he did—only to be caught and cornered by Zimmerman.
In an interview on ABC News, the unnamed girl recounted what she heard: "Trayvon said, 'What, are you following me for,' and the man said, 'What are you doing here.' Next thing I hear is somebody pushing, and somebody pushed Trayvon because the head set just fell. I called him again and he didn't answer the phone."
Nothing about that conversation lends credibility to Zimmerman's claims of self-defense. What that sounds like to me is a scared boy being confronted by an aggressive grown man. If Trayvon decided in his last moments that he needed to do something to fight off this crazy man with the gun who had just cornered him, which party here is the one engaging in self-defense? Certainly not George Zimmerman.
UPDATE: Meanwhile, this news comes on the heels of the release of the full 911 tape of Trayvon's killer. In it, Zimmerman repeatedly describes Trayvon's race, laments that "they" always come to his neighborhood and "get away" and, in one part of his diatribe, can be heard whispering "f*cking coons" as he disobeys the 911 operator's orders and begins chasing Trayvon. Mother Jones has authenticated the tape, and although they say the slur is "unintelligable," many believe Zimmerman refers to Trayvon as a "coon" (at the 2:21 mark). [Hat tip to Clutch and KollegeKid.com for the video and analysis.]
Now is probably a good time to consider just why it took the Sanford Police Department so long to release those tapes. It's also a good time to ponder claims by Zimmerman's father that his son has lots of black friends and isn't a racist. Go ahead. We'll wait.
Let's get those Skittles shipments going down to Sanford to express our displeasure to the police department for failing to arrest George Zimmerman in Trayvon Martin's killing. Our friends over at Clutch also suggest three great ways average, everyday people can get involved in helping bring justice to Trayvon Martin and his family. And if you can make it there on Thursday to join Sharpton and Baisden, go and have your voice be heard. And then come back here to MyBrownBaby and tell us all about it.
 RELATED POSTS:
1. 911 Tapes In The Trayvon Martin Killing Reveal He Begged For Help; Zimmerman Shot Twice (UPDATE)
2.Teenager Killed in Florida by Neighborhood Watch Brings Terror To My Heart
3. Another Black Boy, Another Senseless Murder When Will It Stop?
4. Black Boy Swagger, Black Mom Fear
Mom. NY Times bestselling author. Pop culture ninja. Unapologetic lover of shoes, bacon and babies. Nice with the verbs. Founder of the top black parenting website, MyBrownBaby.