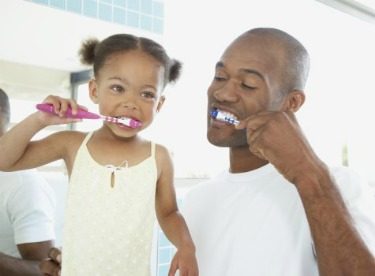 By spelhouseLove
Yesterday, my dad celebrated his seventy-second birthday. He's an old man! In a world where so many fathers are absent, I have cherished memories of father-daughter activities going back over 30 years.
When I was a baby, my father created a baby album, and wrote captions about my thoughts and expressions captured in the photos and I learned he respected and valued my opinions and feelings. And then, once I could stand, he transformed an old buttoned down shirt of his into a painting smock, and he gave me permission to be creative.
When I was old enough to walk, he took me to Buck Hill to ski on the coldest day of the year. I think it had to have been about thirty below. I was freezing, literally, but since I was with Dad, I obliged one run down the slope. At the bottom of the hill, I turned to him and said, "Dad, I'm cold." So we went home and I realized he would go to great lengths (even endure extremely frigid weather) to spend time with me. I remember roller skating at Rollergardens and just enjoying the environment as we held hands as I learned how to skate backwards. From this, he demonstrated what healthy affection looks like.
And once I got even older, we began bike riding. Until one day, we took a steep turn too fast and I fell off and busted my head, shoulder, elbow and knee. And so we switched to tennis, and then one day he feel and busted his knee trying to beat me. And I realized taking risks can be painful yet rewarding.
And once I could run, I joined the track team, and my Dad came to every meet. I ran the 4x400m and did the triple jump. Along the season, as I journeyed to the state meet, he was in the stands cheering me along even though he was leaving work early and passing up the fast track promotions. He showed me what unconditional support looked like and how to be a true cheerleader.
And when I was a little older, he taught me how to play Monopoly. We used to play until he won. And he never let me forfeit early. I think I was eight when we first played, and he'd make me sell my houses, mortgage my property and count all the remaining money I technically still owed him after I'd double mortgaged my little properties and declared bankruptcy. And because of this, you should never ever ev-ah play Monopoly with me because I learned what fierce competitiveness means.
On a lazy Saturday, we would head to Dinky town and have burgers, fries and strawberry milkshakes at Annie's Parlor. Our favorites activity was to sit up against the window and people watch. We'd stare at the punk rockers with blue mohawks, lace stockings and red converse shoes (yes this was the eighties) as they'd walk by. And I learned to appreciate doing nothing but sharing time and space, talking and laughing.
And as a middle schooler, sometimes we would spend up to two hours driving to Breck in his blue Renault. With no working heat. In Minnesota during the winter. And I remembering riding bundled up in a blanket. A blanket I had to stuff under the dashboard and hide as we pulled onto Ottawa Avenue because Breck was a school full of the rich, and while I was privileged and blessed, my Dad's heat did not work and my mom didn't want anyone to see that. And I learned that you make do with your resources until you can't make do anymore.
And in high school, when I wanted a job to earn some spare money, I worked a paper route. In the winter. And did I mention this was in Minnesota? And my Dad refused to let me drive around in the middle of night by myself, so he woke up at 3am and drove me to depot and assembled the Sunday papers, and loaded them into the car, and drove slowly up and down the streets as I ran back and forth to the car. And I saw what protection looked like.
And when I came home from college, I shared my renewed excitement for the Lord, and he spoke about the Bible with joy. And I knew it was alright to love Jesus.
And when I got married, we danced at the reception. And everyone asked how long did we practice, because we glided in step so easily. And I knew that I was marrying an awesome man, because my Dad had shown me all the qualities I needed. As we turned and spun, lock and step, I could celebrate the moment because my father had given me the blueprint that architected a confident black woman. Thank you and happy birthday, Daddy.
spelhouseLove is the mother of two boys, ages 3 and 5, and a bouncing baby girl. She, her husband and their family live in North Dallas, where she works as a marketing manager. She blogs at spelhouseLove.com, where this piece originally appeared.
Mom. NY Times bestselling author. Pop culture ninja. Unapologetic lover of shoes, bacon and babies. Nice with the verbs. Founder of the top black parenting website, MyBrownBaby.