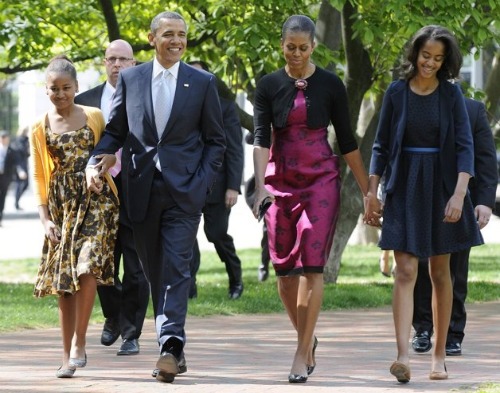 Looking at pictures of President Obama walking with his beautiful family to Easter service at St. John's Church got me all nostalgic about the big to-do my mother used to make when it came to the pomp and circumstance of dress up on Resurrection Sunday. Sasha and Malia look absolutely delicious in their dresses and flats—understated, classic, age-appropriate and beautiful—and make the perfect complement to First Lady Michele, whose flawless fashion sensibilities always hit the mark. Mr. Obama is looking quite spiffy, too—particularly surrounded by his leading ladies.
This is decidedly not what our family looked like when we marched to church yesterday. Oh, don't get it twisted: I used to dress up my girls in fancy dresses and sparkling new patent leather shoes and sweet sweaters and new purses full of mints and shiny quarters for the collection plate come Easter Sunday, too—relished in the tradition. But we'd skipped church for a few years after spending a month of Sundays on a mission to find a church home. And now, these days we go to a church that's much more laid back—jeans and sneakers are just as welcome as skirts, heels and flowered dresses and ribbons. Nobody cares how you're dressed; they just care that you come with an open heart ready to receive The Word. And quite frankly, we love that.
Still, yesterday, I felt the pull to get my girls into outfits a little more special than a cute top, nice jeans and sandals. When I suggested dresses and skirts, though, both my children showed all the way out and literally cried. Cried. Like I was telling them they had to walk on hot coals before they ate their cereal and made their way to our church's Easter service.
To be fair, I didn't buy them new Easter outfits; funds are tight and I just didn't think it necessary to spend hundreds of dollars on clothes my girls would wear once and likely outgrow before I convinced them to wear them a second time. Alas, despite dressing them in the most fantabulous outfits ever when they were younger, getting my girls into dresses and nice shoes is no easy feat now that they're sporty and our church doesn't require runway- and red carpet-worthy outfits to worship. Clearly, I've failed as a mother. My own mom is somewhere in Heaven, clutching her pearls and church hat and falling out while the Heavenly deaconesses fan her back to consciousness.
I did manage to get the 12-year-old in a cute top and skirt; I had to settle for a pair of linen shorts and a cute top for the 9-year-old. Of course, there were plenty of little kids at service yesterday showing my kids how to look Easter sharp. And trust, I'll be showing them this picture of Sasha, Malia, Michelle and President Obama in their Easter best so that they know I wasn't making it up when I said most people dress nice on Resurrection Sunday.  I have a year to prepare them for dresses and shoes for Easter 2013. Pray for me.
RELATED POSTS:
1. Ha' Mercy: My 10-Year-Olds Body Is Too Bootylicious For Kidswear
2. Grown Too Soon: When Your Tween Wants To Wear Make-Up
3. The Attack Against Black Girl Beauty
4. Girls Are Made of Snakes and Snails and Puppy Dog Tails, Too!
Mom. NY Times bestselling author. Pop culture ninja. Unapologetic lover of shoes, bacon and babies. Nice with the verbs. Founder of the top black parenting website, MyBrownBaby.