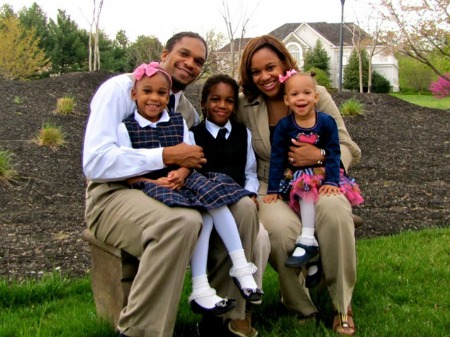 Fatherhood Week, Day Two: During his 10-year NBA career, Etan Thomas developed a reputation as a sensitive, socially conscious, deep-thinking athlete. In fact, the title for his first book, a poetry volume, was "More Than An Athlete." Having grown up in a "broken home"—an expression Etan has always hated—he became acutely aware of the ways in which an absent father can effect the development of a young boy. Though he did see his father every few weeks during most of his childhood in Tulsa, Etan still fought a palpable, destructive anger that got especially bad during his junior high and high school years. He used writing as a way of dealing with the anger and the pain of his father not being around more. Now, two decades later, Etan has teamed up with Pulitzer Prize-winning writer Nick Chiles to create a book, Fatherhood: Rising to the Ultimate Challenge, that he says would have been enormously helpful to him when he was a boy. It includes thought-provoking essays about fatherhood from celebrities ranging from Taye Diggs and Malcolm Jamal-Warner to Yao Ming and Grant Hill. In this exclusive interview with MyBrownBaby, Etan said the reaction to the book has been overwhelming.
What about the reaction to the book has surprised you the most?
I went on The Tom Joyner Morning show recently—I've been listening to his show for a long time now—and his reaction was interesting. He was very complimentary, very positive about everything; he appreciated me doing it. I thought that was a great compliment because he's a big voice in our community. I was humbled by and thankful for that type of reception.
What do you want people to take away from reading the book?
There's a lot, because each chapter is completely different. One chapter they'll read and hear heartwarming stories like Taye Diggs', about how happy he was with the birth of his son Walker. When he's talking about it, you can almost see his patented smile. In another chapter, we're talking about encouraging young people who grew up without fathers, that they can be anything they want to be in life, the sky is the limit for them. You hear Ice Cube talking to young people, encouraging them, telling them they don't need to go down a certain path and wind up in prison. He's painting a picture of what prison is, the horrors of prison. In that, you can see that patented Ice Cube scowl on his face. We're encouraging young men to step up as fathers by showing them the joy and beauty and satisfaction you get from being a father. You hear Andre Agassi talking about that in his essay.
What surprised you most about the process of writing the book?
The number of people who agreed to be in it. At first when I started out, my outlook was a lot smaller, my scope of what I thought it would be was a lot smaller. Then I thought, I've met a lot of people, I can start asking and all they can say is 'No.' I asked Kareem, I asked Cornel West, I asked Tony Hawk. It kept going from there. Everybody was really receptive to it. They were surprised to see the depth so many men brought to the topic when they started talking about it. I wouldn't have even asked them to write about some of the things they went into in their essays. Like Al Sharpton and Stuart Scott, two really personal situations that out of respect I wouldn't have asked them that. But they wanted to talk about it. It was part of their maturation process; the whole part of fatherhood they wanted to share. They opened up in ways you don't really hear men open up like that. It was great.
Why do you think fatherhood hasn't been explored more?
I don't know. I think a lot of time men are reluctant to talk about this. Even myself I didn't plan on getting this deep into my personal feelings. It sounds kind of funny because I'm writing the book, but men don't really talk about it with this depth; it's just not something men typically do.
Why is this issue so important for the African-American community?
It's important for every community, but I work with a lot of young people, especially in correctional facilities. I go there and see all young people who look like me. I want to encourage them, even if they come from a situation that might not be favorable, they can still make the right choices in life. Even if they don't want to take my word for it, here they can listen to Ice Cube say it, they can listen to Styles P say it, or they can listen to Kevin Durant talk about how he grew up in a single parent household, or Baron Davis, who grew up in probably a way worse situation than any of them grew up in, but he was able to make it. I want them to have these examples when they hear those negative statistics thrown at them. Or they're from this neighborhood or from this broken home and the statistics say they probably aren't going to make it, I want them to say, 'No, I just read Baron Davis made it, I read Ice Cube tell me how I can make it, I read the ultimate story of Barack Obama who met his father once or twice and he ended up being president of the United States.' I want them to see that if they can make it, I think I can make it too.
 RELATED POSTS:
1. Welcome to "Fatherhood" Week on MyBrownBaby!
2. A Special MyBrownBaby Love Letter To Black Fathers Getting It Right
3. On Black Fathers, the African American Image and MyBrownBaby Etiquette
Mom. NY Times bestselling author. Pop culture ninja. Unapologetic lover of shoes, bacon and babies. Nice with the verbs. Founder of the top black parenting website, MyBrownBaby.