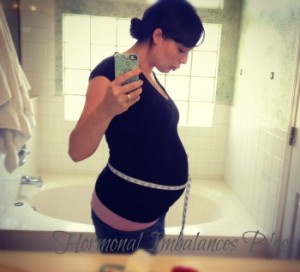 Hers is an incredible story of heartbreak and hope, tragedy and triumph, fear and courage, weakness and strength—and for anyone who has ever fought for the lives of someone they love, or has a heart and blood and sinew and an ounce of human in them, pregnant blogger Diana Stone's quest to save the twin boys in her belly, despite a hospital's insistence that she let them die, will make you want to slap somebody and then fall to your knees in prayer for her and her babies.
Just last week, Diana, who's been chronicling her pregnancy on Babble's "Being Pregnant" blog, revealed that her water had broken and she was in danger of losing her sons. At the recommendation of her doctors, she and her husband agreed that because she faced a significant chance of infection that could take her life, it would be best to induce the twins. The decision had dire consequences: her sons would not be viable at 18 weeks. They would not survive.
Later, though, Diana changed her mind. There was a small chance that if her leak sealed and she was able to keep her babies in her belly for at least six more weeks, they might live. And so she made the equally tough decision to put her own life at risk for the sake of trying to save her sons. She tweeted to family, friends, and those who follow "Being Pregnant" and her personal blog, Hormonal Imbalances:
We changed our minds. We chose not to induce. I can't make a decision like this when they're alive. I'm going to fight & try & give my all—

And if God chooses to take them he will in his time and I'll know I did my very best to hold on. It's all I can do.
Though far from enviable, her choice to do what she felt was best for her body, her babies and her family is admirable to many, and prayers and support poured in from all corners of the blogosphere. But her choice was soundly blasted by doctors at University Medical Center in El Paso, Texas, who questioned her religious beliefs, told her she was taking up an expensive medical bed for nothing, and refused to do what they could to help her keep her babies in her belly, like provide an IV, keep her in a tilted bed, or put in orders for mandatory bed rest. Her treatment, as Tweeted from her handle @lifeasaSAHM and chronicled on Babble's Stroller Derby, was nothing short of ridiculously disturbing:
Omg. Shaking I'm so angry. Was woken up by an MD who told me basically I'm an idiot taking up an expensive hospital bed and need to go home.

I can't believe they want to send me home like this. Or they can't fathom why we want to try. And have to continually tell me.

The MD just told DH, "I know how pregnant ladies are. I don't know who told her those babies will make it." I WANT TO KILL HIM.

Still arguing. About our beliefs now. Perfect. Let's mock our religious choices and call me hysterical.
My God—seriously, what's wrong with people? On what planet is it ever okay to dismiss a woman's right to make medical decisions about her body and the life inside her? Or label her "hysterical" for betting against the odds and defending her right to do so? Babble's Katherine Stone hit it right on the money when she put out a call to moms across the blogosphere to phone, Tweet, Facebook and email University Medical Center to demand its doctors lay off the insults and do their jobs: "This is not just a fight for Diana. This is a fight for all women," Stone wrote. "We deserve compassion and respect. I have been on the receiving end of doctors who minimized my feelings and concerns. Who thought I was just hysterical. I know what it feels like, and I wasn't even fighting for the lives of my children. Whether it's pregnancy, or cancer, or mental health, or any other medical concern, we demand to be heard.  We deserve to be treated with dignity."
Dignity, indeed.
To be clear: my support for Diana's choice is not about taking an anti-abortion stance or adopting some bizarre, no-hold's-barred Rick Santorum-esque demand that women birth babies, no matter the risk to their own lives or the consequences that come when such radical decisions are made. Though I am anti-abortion for me, I fully support a woman's right to choose when and how she will become a mother. But even more, I am pro-woman and support an end to the sexist, racist, money-hungry medical industry that puts profits over patients and always seems to make quick work of coldly, callously treating women like dollar signs—too dumb to be given even a modicum of decency, kindness or respect—rather than human beings. I've got stories (see my piece, Birthing While Black). We all do.
But here is where the power of the blogosphere comes in. After a barrage of calls, texts, posts on the Hearts For Diana Facebook page, Tweets and prayers from moms across the country, University Medical Center's doctors apologized to Diana and vowed to do everything they could to save her and her unborn twins. There is no guarantee that they will live, and Diana still is uncertain of what will happen to her and her babies. But at the very least, she and her boys are finally getting the treatment—and dignity—they deserve. It's just a shame that it took a zillion passionate moms—bloggers, friends, every day women—to get it. Diana, her twins and the rest of her family are in the MyBrownBaby family's prayers. God bless them.
[Photo credit: Diana Stone of Hormonal Imbalances]
RELATED POSTS
Mom. NY Times bestselling author. Pop culture ninja. Unapologetic lover of shoes, bacon and babies. Nice with the verbs. Founder of the top black parenting website, MyBrownBaby.