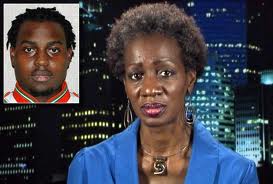 By NICK CHILES
As we watch the media probe Pam Champion for some controversy as she reacts to news that the FAMU band members who killed her son Robert through hazing last year were not being charged with murder or manslaughter, let us take a step back and consider the mental state of a parent whose son is murdered on campus, by classmates.
If you've sent a black male child off to college, you know that there's almost an palpable sense of relief that flows through your body the moment you drive away from the campus. Yes, you're sad to see him go, but you also know deep in your heart that he's safe now. He's away from the mean streets that suck in innocent black boys and spit out hardened bad boys. He's far from those cops that harass him regularly, sometimes just blocks from your home. He is in a place where he can concentrate on his future without having to worry about his physical safety.
So then imagine how it would feel to get a phone call from a campus police officer, informing you that your son is gone. Killed by classmates because he wanted to be part of an important campus institution—whether it be a frat, marching band, singing group, or athletic team. In other words, killed over something as stupid as a hazing tradition.
With all the menaces that black males face in our society, we should never have to talk about one of them meeting his death on a college campus. This should not be a conversation that we ever have to have again in our society. The ridiculousness of this tragedy is mind-boggling. Of course we understand the value of campus traditions and the need to give young people a powerful sense of belonging. That's all admirable and necessary for any organization with a long and important history. But when violence and extreme humiliation are involved, things have clearly gotten out of control. The adults in the organization have lost their way. Two music professors from FAMU were forced to resign because they were on hand to witness band hazing. So this is not just a matter of kids being dumb kids. No, this is about grown-ups being incredibly irresponsible.
Before we have to ask another mother like Pam Champion how she feels about the charges being filed against the FAMU band members accused of hazing and ultimately killing her son, let us plead with all the college professors, administrators, officials and coaches out there who may be listening: The hazing has to stop. Now!
RELATED POSTS:
1. Talking To Black Boys About Trayvon Martin, Hoodies and Black Mom Fears
2. Another Black Boy, Another Senseless Murder When Will It Stop?
3. Teenager Killed in Florida by Neighborhood Watch Brings Terror To My Heart
Mom. NY Times bestselling author. Pop culture ninja. Unapologetic lover of shoes, bacon and babies. Nice with the verbs. Founder of the top black parenting website, MyBrownBaby.